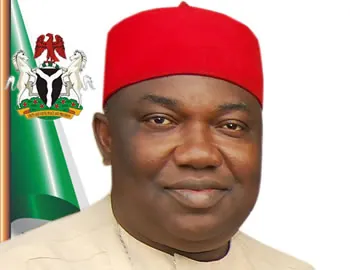 GOVERNOR Ifeanyi Ugwuanyi of Enugu State has called on Nigerians to offer special prayers for the healing power of God to visit President Muhammadu Buhari and restore his health to enable him continue to work for the unity and good governance of the country.
The governor also appealed that ample time be devoted to pray for the country's acting President, Prof. Yemi Osinbajo for God to grant him wisdom, vision and strength to continue to hold the fort for the President.
Ugwuanyi made the appeals during the thanksgiving mass at the Holy Ghost Cathedral, Enugu, to mark the 2017 Democracy Day celebration and second anniversary of his administration as Governor of Enugu State.
The governor who was full of appreciation to God for His mercies in his life, while making several biblical references, also prayed for other leaders across all arms and tiers of government, stressing the need to work together for the common good of the country.
While thanking the people of Enugu State for their support, solidarity and prayers, Gov. Ugwuanyi reassured them that the successes his administration has recorded so far in transforming the economic and infrastructural landscape of the state would be sustained and improved on for the overall benefit of the state.
"I stand before you today, humbled in spirit, with nothing but a heart full of thanks for standing strongly behind us for the past two years since we received the mandate of the good people of Enugu State and the Divine injunction of God to manage the affairs of this peace-loving State and lead our people to greater heights.
"We are halfway through our first tenure as servants of the people and with the benefit of hindsight, I am convinced the choice we made to allow God lead and guide us has been the best decision we ever made", Gov. Ugwuanyi said.
In his sermon, the Catholic Bishop of Awgu Diocese, Most. Rev. John Okoye commended Gov. Ugwuanyi on his remarkable achievements in infrastructural development, peace, security, education, health care services, among others, despite the present economic challenges in the country.
The bishop appreciated the governor's closeness and commitment to God and his "ecclesial attitude" which have brought peace and good governance in the state.
"There is call to thank God everyday for what He has done for us in our families and our places of work. The governor as a child of God has called all of us to celebrate with him on this auspicious occasion and placed God first. Not only that he knows what the power of God is, he knows also the power of prayers, he knows also the power of the Eucharist in thanking God.
"Gov Ugwuanyi uses the greatest of all thanksgivings and prayers in Mass to thank God for what He has been doing not only for these two years but for all his life", Bishop Okoye said.