Democracy Day: Nigerians have reasons to celebrate Buhari ―APC spokesperson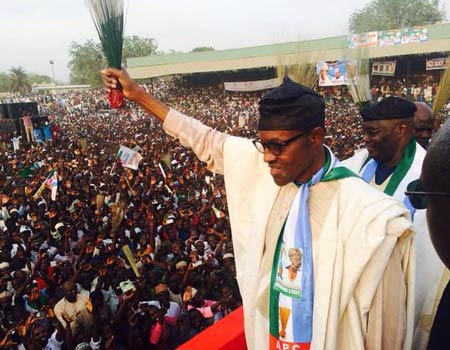 Ahead of Monday's celebration of Democracy Day, the ruling All Progressives Congress, (APC) has thumbed up its chest, with a declaration that Nigerians have every reason to roll out the drums and celebrate its leadership of the nation.
Appraising the two years of the President Muhammadu Buhari administration, APC spokesperson, Bolaji Abdullahi told newsmen at the weekend that the present administration has delivered, substantially, on its promise to the electorate.
The former Minister of Sports and Youth Development enunciated the fight against insurgency and crusade against corruption, as enviable achievements of the present administration.
He said: "I believe very strongly that there is every reason to celebrate. I know that because of the difficulty that people are going through, there is a temptation to think that there is no much to celebrate."
"But I think that if we look more closely, paying more attention to where we are coming from and where we were two years ago, you will see that we have more than sufficient good reason to celebrate."
"There was a reason that Nigerians overwhelmingly voted for APC a little over two years ago. There was a reason that for the first time in our history, Nigerians rejected a sitting government and those reasons were quite compelling and those are the reasons that justifies APC's existence in government today at the federal level and in the various states."
"I like to say that there are three things that President Buhari promised as we went round the country campaigning. One was that he promised to fight corruption. Secondly, he said he will fight insecurity especially as it relates to Boko Haram and thirdly, he said he will create employment opportunity for the young people."
"Let us take the issue of Boko Haram. I have said it repeatedly that we tend to forget one fundamental fact which was that at the time we were preparing for election in 2015, more than 50,000 square kilometers of Nigeria territory were physically occupied by Boko Haram, where they declared a caliphate and planted their flag."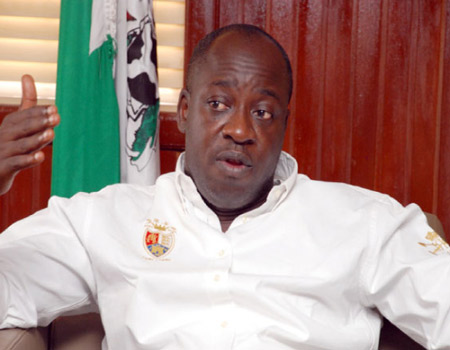 "I remember that in trying to make sense of it, the foreign media said the area occupied by Boko Haram was the size of Belgium."
"Two years down the line, what is the size of Nigeria territory occupied by Boko Haram? Zero, including the dreaded Sambisa forest."
"For us, this is a remarkable achievement and we believe that in that respect, President Buhari and the government of APC have justified the purpose of coming to power."
"Yes, many of the Chibok girls are still in captivity, but some of them have been recovered and more are still being recovered. For the parent of those recovered, you cannot tell them there is no reason to celebrate. For those who had to abandon their families and homes two years ago because of the menace of Boko Haram and have returned home today, you cannot tell them that there is nothing to celebrate."
"Let us take the issue of corruption. We must not forget that before APC came into power two years ago, we knew what was going on. We knew that people were stealing this country dry, but it was almost like it has been accepted as if it was normal. People were stealing as if it was an entitlement. But what do you find happening today? You listen to the radio, watch the television, read the newspapers, Nigerians are talking about corruption every day. It means that as a nation, there is nothing in our DNA that accept corruption. It means that we are telling the world that as a country, we don't want corruption and that is why we are having that conversation."
"You hear people talking about whistle-blowers, people talk about huge amount of money being recovered, people being dragged before the court, former governors being remanded in prison custody for corrupt practices, you hear about former ministers being held in detention and prison for corruption. These are things that were almost impossible two years ago. The challenges are still there, but this is the progress we have made in two years."
"The reality which we have acknowledged is that the economic recession has created difficulty and those hardship still exist and nobody has ever denied that reality. We believe that in spite of this reality as a result of the hardship, we have enough reasons to celebrate two years as a government."
The APC spokesperson who admitted that youth unemployment remains a big challenge under the present administration however declared that the problem predated the APC administration.
"I don't think that what the government promised is that at the end of two years, it would have wiped out hunger from Nigeria. What the government promised is what I have told you. Since when have we been hearing the report that 70 percent of Nigerians live below the poverty line. It is a United Nations report and that statistics is not coming up today. The issue of poverty is associated with the issue of hunger and other kinds of challenges."
"So, to now begin to blame a government that has been in government for two years for a problem that has existed for decades is slightly unfair. I think that we should focus on what the government has promised to do and whether they are doing those things or not."