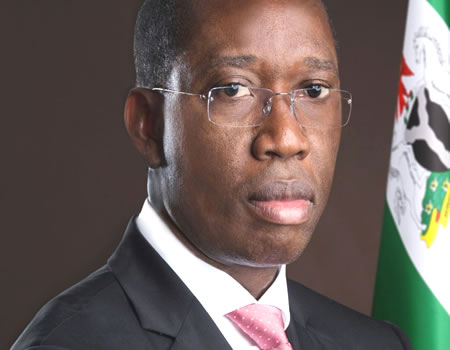 AS Deltans mark the 27th anniversary of the creation of Delta State today, Monday 27th August 2018, Governor Ifeanyi Okowa has attributed the success of his administration to the support and peaceful disposition of Deltans in their various communities.
Gov. Okowa said this in a congratulatory message to Deltans through his Chief Press Secretary, Mr Charles Aniagwu.
He noted that "despite the challenges the state grappled with over the years since creation, we have remained one indivisible state bound by love and brotherhood."
According to Aniagwu, "the fact that we are still one is enough reason to celebrate and it is our hope that we will leapfrog from where we are to where we want to be in the nearest future."
"Our administration's investments in meaningful peacebuilding has yielded so many gains which have impacted positively on not just the economy of the State but the entire country.
"We have kept faith with our SMART Agenda as can be seen from the recent completion and ongoing construction of over 300 urban and rural roads that traverses across the three senatorial districts in the state.
Aniagwu quoted the governor as saying that "besides the many numbers of roads constructed and rehabilitated, we have completed construction, rehabilitation and furnishing of over 3,500 classrooms in our primary and secondary schools across the state.
Some of our hospitals have also undergone a facelift", under the SMART Administration
"In the last three years, we have embarked on serious urban renewal programmes geared towards giving our cities a "SMART" look and this we have demonstrated by the storm drainage projects we are constructing in Asaba and environs to check the effects of flooding in the state capital territory and we have carried out a comprehensive study to enable us to tackle the flood challenges in our commercial city of Warri as from 2019".
"As an administration, we are mindful of the growing unemployment rate in the country, hence we launched a number of initiatives targeted at expanding the economic opportunities available to young Deltans.
Our YAGEP, STEP, GEEP, PPSP and WESAP programmes have created no less than 20,000 direct and indirect jobs for our youths.
"This year's anniversary provides an opportunity for the people of Delta State to reflect on the vision of the state's founding fathers and celebrate the progress achieved over the years," Governor Okowa said.
The governor acknowledged the support the government has enjoyed from the people of the state and urged them to continue to support his administration as he continues to make Delta State an enviable one in the nation.