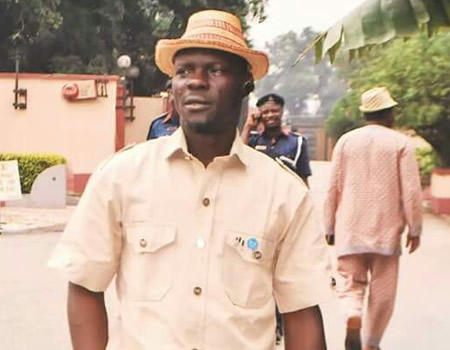 A leading aspirant for the Warri South West Constituency seat, Delta State House of Assembly, Comrade Sheriff Mulade, has raised the alarm over threats to his life and family members.
The environmental activist disclosed this to journalists in Warri on Thursday morning, saying there were threats to kidnap or kill him ahead of the Peoples Democratic Party (PDP) primaries on October 2, except he steps down from the race.
Mulade, however, vowed never to step down for anybody or to serve any leader's selfish interest but called on the security hierarchies to protect him and his family from enemies of progress.
He reaffirmed his position to legitimately contest the PDP primaries, saying "It is pertinent to inform the general public particularly the Inspector General of Police Ibrahim Idris and security agents to do everything within the ambit of the law to protect my life and family members.
"We don't need politics of intimidation, harassment and oppression," he averred.
ALSO READ: ASUU warns on embarking on another national strike
The aspirant noted that since some highly placed political office holders of the PDP Delta State visited him at home and asked him to step down for their choice, he has been getting several anonymous calls and that his movement is also being monitored with a threat to kill or kidnap him and his family members before the primaries.
He said one of the callers to his home, who acknowledged him as a popular candidate, said his (Mulade's) wide acceptance was threatening the chances of their aspirant as the PDP primary election draws near in Warri South-West.
"I have been receiving all sorts of threats stating that their bosses came to speak with me so as to step down and I am proving stubborn.
"They said if I want to be alive and experience the primary election, 'we advise and warn you to immediately step down now to save your life before the primary, if not we will make life miserable for you and your family.'
"The anonymous callers said that if I like I should inform anybody that they would go after my family physically and spiritually," the environmental activist disclosed.
The threat to the life of Comrade Mulade, a Delta State House of Assembly hopeful for Warri South West Constituency, is coming few days to the PDP's primaries to elect candidates.
It will be recalled that few days ago, a Senatorial aspirant for Delta Central Senatorial district and leader of the APC in the state, Chief O'tega Emerhor, also petitioned the IGP, alleging threats to his life by his opponents ahead of the primaries.
TribuneOnline gathered the threats are being orchestrated by fidgeting opponents to force unyielding aspirants to step down for their preferred stooges.