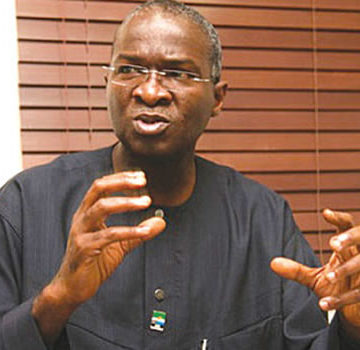 THE Federal Government(FG) on Wednesday said that contractors handling federal infrastructure project should not blame the slow pace in execution of projects on delayed payment.
It said this is because when the current administration came on board, an outstanding debt of N47billion was paid to contractors to clear debts owed by previous administrations.
The Minister of State 11 for Power, Works and Housing, Surveyor Sulaiman Hassan Zarma, stated this in Shagamu, Ogun state during his inspection tour of federal road projects in the south-west.
Zarma, who was reacting to the Project Manager of the construction and asphalt overlay of Benin-Ofosu-Ore-Ajebandele-Shagamu dual carriageway phase IV road, Mr. Noar Markis, that the delay in payment was responsible for the slow space of the project, urged contractors to have confidence in the government.
The Minister, who frowned at contractors' attitude of abandoning sites over the delay in their payments, said that the governmment's gesture should rather be appreciated.
He said that the present administration on assumption to office approved the payment of N2trillion outstanding debts to contractors.
ALSO READ: N2bn spent on introduction of Jolly phonics in schools ―UBEC
According to him, the sum of N47billion was paid to all contractors handling road projects across the country.
His words: "I am not saying that the government is not owing but you will recall that when President Muhammadu Buhari came on board, there were debts over N 2.7trillion owed by various past governments to various categories of people.
"The Road contractors were inclusive, Petroleum marketers were inclusive, and he made an approval of about N2trillion to pay various contractors.
"They got N47bn. These were projects that were done when he was not the president. The point, I am trying to make is that no contractor should hold us to ransom that because we are owing, work will not continue. We paid monies that we did not owe. They should have confidence in us that we will pay them if we give them job."