Declare state of emergency on federal roads ― Niger NASS caucus tells FG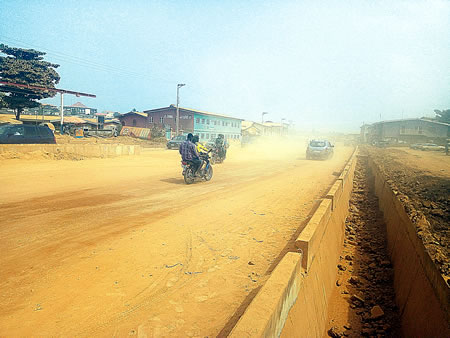 The Niger State caucus in the National Assembly on Tuesday called on President Muhammadu Buhari to a matter of national urgency declare a state of emergency on federal roads across the state.
The caucus which comprises 3 Senators and 10 members of the House of Representatives argued that the dilapidated federal roads impact negatively the socio-economic development of the State.
Speaking on behalf of the Caucus, Senate Deputy Majority Whip, Sen. Aliyu Abdullahi Sabi said: "We felt it is incumbent upon us to come and cry out with a view to getting the attention that our State badly requires at this time. Like you all know, Niger State is the largest state in terms of the landmass in Nigeria. The state is about 76, 363 kilometers square. And with this also, Niger State has the longest trunk A network of federal roads, spanning 2,365 kilometers of federal roads
"We are located in the North Central zone, and the implication of this is that if you're coming from Northeast, Northwest, you'd have to pass through Niger state, taking the trunk A2 from Kaduna down to Birnin Gwari, down to Tagina, to Mekirah down to Bokhani, Jebba–Mokwa before you exit in Kwara State.
ALSO READ: FG warns motorists against overloading
"In this same vein, if you're going to Kebbi, Sokoto or Zamfara states, you now detour to Mekirah down to Katongora where you have two or three options of going through Bangui, Rhijau or you go through Yauri
"Now going from Mokwa to Minna, you either go through Bida–Agaie–Lambata which is the actual federal road, or through Bida–Minna which is state government road".
The former Senate spokesman however lamented that the roads which were hitherto providing hot beds of commercial and tourism activities to Niger and all other states linked by them have become death traps due to heavy rainfall and excess weight of high capacity trucks
According to him, " the heavy traffic that we have witnessed in the last two years has impacted negatively on all the roads. The excessive weight and heavy downpour over the years on  that particular stretch of the road has made them to be washed off
"The implication of this is that the Western bypass in Minna has been completely degraded. The road from Bida to Minna has been cut off twice in the last two years, first by torrential rain, then the heavyweight. And the situation has remained this deplorable
"Now for those who are familiar with the Suleja–Minna road, there are sections of the road that were very good, but because of the excess weight vehicles plying that road are carrying, in the last one, two months, the story on that road is one of cry and anguish. Because people have had to sleep there for two, three days as a result of a section giving up completely, becoming very muddy, trailers breaking down there. In fact, it's right now almost impossible for vehicles on rescue operations to go there
"So the essence of this is to actually call in the federal government in particular, under the leadership of the minister of Works and Housing, Babatunde Raji Fashola, and indeed, our father Mr President to take interest in what is happening".
Senator Sabi also outlined the priority ones among the roads, saying that "three roads are critical to solving these particular problems: that is; the Minna–Suleja road, which is a dualization, and of course we are asking for this because we are aware of the policy that says, all states adjoining the FCT should have a dual carriageway.
ALSO READ: Kachikwu delivers lecture as PTI graduates 1,122 technologists, technicians
"But Niger state is the only state that doesn't enjoy a dual carriageway, and Niger state contributed 75% of the total land area for the establishment of the FCT. I think we've given our due to this country and we deserve to be given something back
"But if you fix the Suleja–Minna road without fixing the Makwa, Makerah, Bokhani down to Kaduna, as well as Bida–Agaie–Lambata roads, what you're doing is that you'd be putting excess pressure on the only one that's good
"So gentlemen of the press, this is our cry. And we're convinced beyond a reasonable doubt that beyond what's happening under the budgetary provisions, we're calling on Mr. President to please, do the needful for our people," he added.