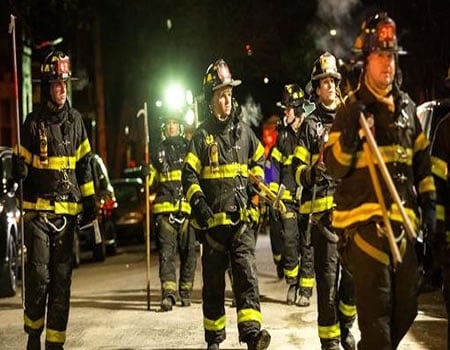 A child playing with a stove may have caused the fire in a New York City apartment building that killed 12 people, including four children, Mayor Bill de Blasio said on Friday.
The fire, the deadliest in the city in a quarter of a century, broke out a little before 7 p.m EST (midnight GMT) on Thursday on the first floor of a brick building and quickly spread upstairs, killing people on multiple floors, the New York City Fire Department said.
"What we think at this point is that unfortunately, it emanated from an accident, a young child playing with a stove on the first floor of the building," de Blasio said in an interview with WNYC radio.
Children ages 1, 2 and 7 died along with four men and four women, local media reported. An unidentified boy also died.
Authorities said firefighters rescued 12 people from the building and four people were in the hospital in critical condition. More than 160 firefighters responded to the four-alarm blaze.
The building, with 26 apartments, has at least six open building code violations, according to city records. One violation was for a broken smoke detector in an apartment on the first floor, reported in August. It was not clear if the detector had been fixed or replaced or whether it had played any role in the fire.
"I know there were concerns raised about the building itself," de Blasio told WNYC. "Based on the research we have at this moment, it does not appear there was anything problematic about the building or the fire safety in the building."
The building is in the Belmont section of the Bronx, a primarily residential, close-knit neighbourhood known as the "Little Italy" of the borough, near Fordham University and the Bronx Zoo.
It was the deadliest fire in the city since an arsonist torched a Bronx nightclub in 1990, killing 87 people inside the venue that did not have fire exits, alarms or sprinklers, the New York Times reported.
In 2007 10 immigrants from Mali, including nine children, died after a space heater caught fire in a Bronx building.