Day Ogboni leader wanted to kill Archbishop Idahosa —Obadan
FORMER Edo State deputy governor, Rev. Peter Obadan, remains one of the ardent follwers of the late Archbishop Benson Idahosa. Rev. Obadan, a lifelong member of the Church of God Mission International Incorporated, shares the story of his relationship with the late Archbishop Idahosa, his spiritual life, among others, with HENDRIX OLIOMOGBE.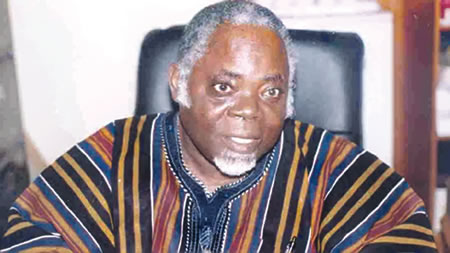 How was it like in the beginning at the Church of God Mission when Archbishop Benson Idahosa started?
It was when we were at Iyaro that we actually registered it as Church of God Mission. The church actually started from Lagos street to Ehondor. That was around 1967 and 1968. From there, we went to Fabiyi A kpata where we built the first church. Others were just rented apartments. After building the church, the membership was less than 40 at that time. Archbishop Idahosa had to go abroad.
By the time he came back from the United Kingdom, there was this explosion. It was now multiplying. In less than four years, we had to move to Miracle Centre. Some of us remained at Iyaro, where I still worship. Mama Idahosa has given us a bishoprate when we requested for it and a bishop has just been posted there.
Incidentally, the fellow posted there was one of the early Bible School students whose house was at Iyaro itself. They were all sleeping inside the church and studying there. The church there was also a school. Some of us were privileged to witness the first teaching, outing and crusade.
Can we rightly say that you are one of the oldest member of the church?
With the benefit of hindsight, except for an elderly woman, if I am not mistaken, Mama Obaika, I think I am the oldest member of the church after Archbishop Margaret Idahosa. All others left and some were also called home. I was there when most things were done. As youths, every weekend, we went from villages to villages. We created the youth wing. We started the Christian Youth Association which they now call the Christian Fellowship international, an arm of the church and I was the first secretary. The first magazine was actually written by us before Papa took it over and called it "The Redemption" magazine.
I initiated the Sunday School manual being used today in the Church of God Mission Worldwide. Before then, we were using the Assembly of God magazine. I discovered that the Assembly of God has a system of repeating their topic every seven years. Because I was long enough in the teaching ministry, I was able to dissect that. I felt it was not good enough for growth. I met Papa and told him that we could write our own. He sent me a letter, telling me to go ahead. I brought some of my colleagues like Professor Iyawe, Professor Ogboghodo and others together. We met in my office and developed a manual. I had to introduce hymns into it. Having being so influenced in secondary school, I love hymns. If you look at the Sunday school manual of the Church of God Mission today, there is always a hymn that relates to the topic being taught every Sunday.  I still find hymns refreshing today and inspiring. I think those who wrote the hymns were inspired by the Holy Spirit. You have to look at the contents and not the hip hop they associate them with nowadays.
We had series of camp meetings in different places. Every holiday, we came together. We developed ourselves intellectually and spiritually. We were a small number of professionals. I can count so many members who, because of what they got from the church, became men of great import. I am talking of men like Gibson Onime who became the first mining engineer in the country; Mikson Ehimika who went into the medical profession. We encouraged ourselves and believed that as Christians, we should never fail. We believed that we should always be the head and not the tail and for that, whatever we lay our hands to do, we should always do it well. We should be an example to unbelievers. People should look up to us.
How has your strong Christian background been of help to you?
I was not surprised when at the age of 34, I became the chairman of a multinational company, the Bendel Insurance. I give the credit to a man who I didn't know was observing me and loved me. That man is Col. Paul Ogbebor (retd). When the then Military Administrator  Jeremiah Useni said the government wanted an intelligent and honest man to head Bendel  Insurance which had braches all over the country and in the United Kingdom, he (Ogbebor) recommended me without my knowledge. I am still indebted to him till tomorrow.
When I became deputy governor under Chief John Oyegun, it was still the same Christian background. It was zoned to my area, Edo North and people were pushing me to go for it. When I joined, I received the support of Christians. Up till tomorrow, I still say it. The Assembly of God calls out all its members and became virtually political evangelists on behalf of Rev. Peter Obadan. They moved from house to house and did all they could.
But most people believe that true Christians should not participate in politics as it is considered to be a dirty game
In those days, to some Christians, it was almost an abomination to go into partisan politics. They felt it was dirty and you have forsaken the gospel and fallen from faith. I received a letter of rebuke from Full Gospel Businessmen Fellowship of which I was a founding member. Archbishop Idahosa actually brought the Full Businessmen Fellowship until something happened and it was moved to the east. I also received a letter of rebuke from the Scripture Union (SU), saying that they were surprised that I, that they so trusted, had sold my heart to the devil and was going into politics. I resolved to be a good example. I still recalled one of the statements I made when I was chosen. I said that the Pentecostalism is on trial and if I failed, Pentecostalism would have failed but I would endeavour to be a good example. That is why I am so happy today that Christians are now involved in politics. Many of them seek political positions now. Even the groups who felt I was taking the wrong step then are now in the forefront.
Did the archbishop support you? You were said to have walked out on him during the heat of the campaign in 1991. What really happened?
Initially because of what transpired with one of the elders, Rev. Ogunaike, who was not a member but who contested the initial election and died unfortunately in the north, Papa was unwilling. He was very disturbed and didn't want me to run. Secondly, Lucky igbinedion, son of his friend, Chief Gabriel Igbinedion, the Esama of Benin, was running for governorship on another ticket. My coming out to run, created problems for him. So, he didn't know how to handle the situation and was greatly disturbed. He told me to pull out, but I refused. That was the first time I actually said no to Papa. That day, he told me to kneel down, but I told him I was not going to kneel down and I walked out of his office. Rev. Oshaikpemhe who was the head of Assemblies of God heard what happened and came to me. He told me not to worry that the Assemblies of God Church will support me if Church of God Mission didn't.
Did you eventually reconcile with your spiritual father before he passed on?
Yes. I must say this. Mama (Bishop Margaret Idahosa) is very futuristic. She even sent me money for the election. She did not take the position of Papa. Her own position was very clear and it was a big encouragement to me.  About 24 to 48 hours before the election, he had Papa eased up on me. He said God spoke to him. I was  not even allowed to mount any pulpit of Church of God Mission to make pronouncement about my political aspiration.  He was so strong on that because he didn't want to offend his friend. I was not excommunicated as I was still a member of the church at Iyaro branch. I wanted the news to go round, but Papa felt that he would be offending Chief Igbinedion, his good friend with whom he shared the same September 11 birthday.
I give that to him. When we won the election, Papa was the first to come to me and the day we were removed from office, Papa was the only one standing by me. I actually had to move my things from Government House to Papa's house. The father/son relationship abided. Papa was the only one we looked up to when we were growing up. We were there when he had his first motorcycle, his first car and so on. Those of us without fathers, he was the only one we saw as a father figure. He related to us in that manner. One grew up under him. I have remained a Bible teacher for those I thought are bishops today.
When Papa wanted me to go into full-time ministry, I decided not to leave my profession because I was enjoying my practice. However I rendered my services to the ministry in all areas I was called to. Everything revolves round the Church of God Mission, Scripture Union, Full Gospel Businessmen Fellowship and other religious activities. I write religious books which are distributed freely to churches. They are not meant for sale. I noticed that Nigerians don't spend money buying books but could read if they are given out freely. But thank God we value salvation which we did not pay for.
What is your take on churches which preach for offering?
I don't preach for offering. I could raise offering for church. When I was ordained a reverend in 1981, Papa wanted me to be on salary but I declined. I was ordained a deacon in 1975. I briefly taught briefly in the All Nations for Christ Bible Institute for free.  All my services to the church are free because I felt it is my church. It is not the money but the joy that the seed you sowed has grown.
What kind of man was Archbishop Idahosa?
Talking about Archbishop Benson Idahosa, it is very difficult for those of us who knew him to actually describe him. We saw him grow and outgrow everybody. It was like a sister, this sister when Papa preached wrote down all the grammatical mistakes he made.But it was not long after, when all of us started learning from Papa. We were begging to put down things. The way heaven came down on him, we could not actually comprehend it. It is like you went to bed and you woke up only to discover that the person you knew yesterday was no longer the same person. That was the way it happened. The wisdom God endowed him with was of heavenly. He was always there to resolve all issues. He was a tireless man. Whenever Papa was walking, you found yourself panting. His calendar was always full. Papa would give up anything for soul winning. You could be on the table with him and if there was a need to preach to anybody, he would go straight away.
Did you ever witness any of his miracles?
There was this young girl, the only daughter of a top man in this country. Nobody knew the form of sickness she was suffering from. She could be discussing with you now and would suddenly pass out.
I told the father that we would both meet the archbishop and he would pray and I believed that the child would be made whole. He did not fancy what I said. The following day, the arrangement was concluded and I told the father. He said okay. We went to Benin. We moved straight to Papa's house. As soon as we got in, there was a video on and Papa was watching it. The moment we entered, he stood up. Nobody told him anything about the girl. He didn't know why we were there. He looked at the girl. Papa did not talk to me; he did not talk to the girl too and didn't even answer our greeting. He rushed upstairs and came back with an olive oil or something like that and went to the girl and held her mouth. He told the girl to open her mouth in Jesus name and drink it. He looked at the girl and said:  "Your problems are over." The girl was shocked and said first I have not told you why I came. He said "Son (that is what he calls me), this is why you came. It is over."  The girl left and that was the end of that problem. The lady is still alive.
What about his numerous fight with members of the Reformed Ogboni Confraternity?
There was an instance, a leader of Ogboni, who came and confessed to me that three of them were sent to kill Papa but as they came, they saw fire at the altar. I took him to Papa but as soon as we got close to the house, Papa, who was upstairs, shouted: "Son, stop right there with that man." Then he came down and said: "Whoever that man is should stop there. You come." I went to him and introduced the man to him. He replied that he didn't care who that man is. There is a mark of death on him for the evil he did.  He told the man to walk on his knees. The man had attempted to kill Papa when he was he in the occult before he became a Christian. The man said that after that day, he became free. He said that he was the number two Ogboni man in the country. There is no substitute to Christianity.  The word says that He has appointed the day, in which He will judge the world in righteousness.