Day Fela asked principal to discipline Femi, his son, at Baptist Academy —Akin Eyitayo Fatunke
Akin Eyitayo Fatunke is a humanist, philantropist and a chartered accountant who believes in human capital development and had worked with Mobil Nigeria Plc for 29 years and 10 months as a Manager, Public Affairs. He is also a public affairs commentator and communications specialist. In this interview with SEGUN KASALI, he shares his growing up experiences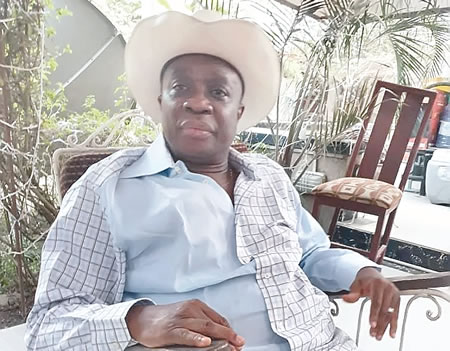 YOU lost your mum almost from cradle
Yes. I lost her just when I was about coming. So, that was a challenge and I grew up with my grandmother. I never knew my grandmother was not my mother until age 6 or 7 back in primary school when teachers would ask parents to come for meeting. And every other parents were looking younger but mine wasn't (Laughs). My friends started asking me why is your mummy so old. So, I got curious and got home one day saying Mama why are you older than the rest and then she just bursted into tears and told me that it is something they had been hiding from me all this while and that she was the person that weaned me. And when you grow with your grandmother, it comes with some wisdom and you are not spared. It is usually the carrot and stick so to speak. But more of the stick.
So, you weren't pampered?
You are right that those who grew up with their grandmothers are usually pampered. I remember my grandmother would ask me- 'are you hungry? and I would say yes. She would ask again-what should I prepare for you? And I would say eba or rice. She would ask me what quantity and I would say 'pupo die' which means a little bit of plenty  (laughs). At the end of the day, she taught me wisdom. I grew up learning wisdom of the ancient much more than my peers. She would tell me stories, fables and tales. The art of story-telling and all that were strictly by my grandmother. Especially when I realized that she was my grandmother, I dare not get spoilt. It was that era of communal discipline and upbringing. If my teacher, for instance, says he wants to come and report me at home, I would rather want to prostrate and beg my teacher than to get home because if it gets home my grandmother could start with the traditional abuse which could sometimes be stricter than you being caned. And then, she would end it up with cane. All that time, of course, my dad realised she lost a 26-year-old wife and got very devastated. In fact, they were both planning to travel abroad so he could further his studies in accountancy and then that happened. I was told that as a result of the issue, my dad just went and tore the pictures and everything. As I speak, I have never been able to see the image of my mum.
How did you feel?
Of course, I felt bad. However, I knew they didn't want me to start thinking about it to the extent that I would be demoralized.
When did your grandma use the stick?
I could remember the day they asked me to grind pepper. So, I went out. On my way back, I saw my friends in the neighbourhood playing football. So, I used my pepper bucket as one of the posts (Laughs). And I was supposed to be the goalkeeper. So, someone hits the ball so high that the ball landed on my pepper and the whole thing went on the floor. I cried and cried and cried. One elderly person took me home with the pepper and all. And my grandmother said is that the reason why you are crying? Ahh! There is no reason for you cry. Don't worry and stuff like that. Then the man left. As soon as the door locked, she locked my ears and gave me a big one at the back. Grandmothers, back in the days, never spared the hand. I was beaten and suffice to say that there was no food for me for the evening. So, I didn't eat that day. The following day, I went to school, came back from school and she called me asking if I knew the reason why she beat me? You have actually made everyone hungry. So, your punishment continues and so, stoop down there. I sweated so badly but she never bat an eyelid. Since then, I learnt the hard lessons that there are some mistakes we shouldn't make. Of course, you make some mistakes but you don't risk some mistakes whereby the whole commonwealth of more than one person would be dependent on you. On the third day, she now then told me that such mistakes are not worth making, that one needs to be focused. That the only thing that had was  Akin and that the other one Fatunke does not belong to me because it was my father's name. 'So, if you mess up with it, you have to pay dearly for it. If you want to mess up with Akin, you suffer for it alone.' That is one of the lessons learnt.
Grandma really played mother's role well
It was a polygamous family. My grandmother had a way of incubating me one way or the other. She goes to the market and she comes back with beautiful things by the time she comes back. And when I come back from school, she would ask after my school work. She had a way of pampering me. She was a teacher. I didn't realize that I don't have a mother. After the realization, the next thing is what happened? Again, it was going to be very difficult for them to tell me. You remember back in the days they tell you that you are the murderer that took your mum (Laughs). I thought maybe they don't know how they would be able to explain that.
Relationship with your Dad?
Well! There were two of us. I had a Senior sister. She is not there anymore. So, like the only child, my father had to re-marry. And in the other marriage, he had a son who grew up to become a pastor but along the line had some complications with his kidney and then passed on. So, I now remained the only child. Being the only child, I became conscious of the fact that a lot of responsibilities lie on my shoulder. And with the other marriage that my dad got into, the traditional schism that entailed were all there. I was estranged from my dad for some substantial number of years. So, when my younger brother died, he wanted to come closer but it was not the way one expected. I have always been a lone ranger all my life.
Traditional schism?
The experience with my step mother was gory, terrible. The average Nigerian and African would be able to relate what I am saying
Did your lone ranging position helped you academically?
extremely yes. At the back of my mind, I just knew no backbone. I also knew I would be careful in the company of friends I keep. It taught me to seek amongst my classmates the very best of the bests in value, character, capacity and in compassion to ensure that at every point in time I am among people that would help me and vice versa. I also knew that I drop the ball, I won't have the luxury of the time for a repeat. So, I faced my studies, i skived a litttle and I embrace what I would call Christian discipline at ensuring that every point in time integrity should always be my watchword and do not collect what do not belong to me.
You skived?
Ye! I skived a bit oo. I attended Baptist Academy, Lagos, one of the missionary schools back in the days. One of the things we did was to jump through the fence to go to Kalakuta to watch Fela. I also remember that Femi Kuti attended my school. He started in my school before moving to Igbobi College. You know, back then, seniors would come and relate to us what Kalakuta looked like. I was a border. It was so strict that if you were caught, you would be punished and put on suspension. And if you were found doing it a second or third time, you would be rusticated. Don't forget. So, most times we walk and walk and walk over a long distance and we won't feel any pain. Some people were caught. So, I was lucky not be caught at all.
Things we did at Kalakuta
Baba 70, Fela was a social crusader. On one occasion, the principal asked Femi to bring his parents because he came late to school I think. We knew Femi was going to come with his father. And the principal said it in the Assembly hall that Fela is coming, whatever it is and he was saying it with a frown. The name of the principal was late J.A. Adegbite. He said he was going to show discipline on that particular day and everyone said ahhh. The school was going to turn upside down. We were supposed to be in our classes. In those days, there were no phones and all that. I don't know how Information got in that Fela was coming. So, everyone stepped out of class and it was like the head of state was coming. Before the principal could say anything, people just shouted Baba 70 and there were a lot of noise. Fela drove in in his Mercedes Benz and Femi was there. Fela came down from the car and waved at us. Fela then went with Femi to see the principal. The principal said he did this and that. Do you know what Fela did? To our shock and to the shock of the whole school, the whole place went quiet. Fela said Mr. Principal! You don't need to call me to discipline this boy. I want you to discipline him in my presence. Nobody could believe that the statement would come from Fela. The principal was just looking? And it became a footnote for school at that time that Fela, despite waywardness and smoking of weed, was strict with his children. So, such skiving do happen. Another skiving that I remember is the April one that I introduced. I connived with my friends in the boarding house that when it gets to 12 o'clock, we would all just come shouting ole ole ole (thief, thief and thief) and it happened. So, people started running helter skelter. In that situation, it was very bad. Everybody woke up and people jumped off their bed. They were all trekking and walking towards the gate. Only just for them to hear someone say April Fool. Oh my God! Come and see the kind of knocks we got from our seniors that we fooled them. Overtime, the April fool thing has now run out of place.
I think my greatest skive would be when I went for my HSC at Federal Government College in Sokoto. And I went to one of my friends to come and collect money for our GCE forms. We were granted the permission and we came to Lagos. On our way to Lagos, a bus had an accident that all the passengers including the driver died. I got back to Sokoto. When a teacher of mine saw me, he was like Fatunke where did you got to that people have been preparing for the J.F Kennedy Memorial Essay. So, I lied to him that I had been around. So, he was like you are a good boy. So, I went for the essay. When I got into the hall, a friend of mine just gave me his pen with the thinking that where is this man coming from. So, he gave me the biro. So, I sat down and just started scribbling. The shock of it was that I came first overall. Not just at the school level only, but also in Northwestern Nigeria. That particular scenario opened quite a number doors to me. It was the same J.F. Kennedy that attracted Bola Ahmed Tinubu who was the Managing Director and I ended up spending 30 years in Mobil.
How did Tinubu come into the picture?
After my HSC , I got admission to read to B.Sc Economics at Ahmadu Bello University. Accounting came as my professional degree. After my Ecobomics programme at the university, I now needed to specialize. So, I decided to go into the area of Accounting. I have to say that from the onset, my mind told me that if I studied Economics, I could then turn in into any of the professions-Insurance, Finance, Business administration, and accountancy. We were the first set of Jamb through direct and admissions was very, very strict at that time. So, rather than put all eggs in one basket, I wanted to broaden my horizon. Although my dad had a friend who could come home and would just say Akin the Chartered and the Chartered would be called three times. So, it gave me the impression that there must be something more in this accountancy. I said to myself that I would eventually go into it because of the way the Chartered sounded and ended up with PWC, where I did a tutelage and got qualified. It was after that and working for a few years, I thought I should go into the industry and apply. So, I applied to Mobil Oil without knowing Bola Tinubu, and Bola Tinubu at that time wanted to experiment and needed to go computerization. That was 1988. He needed graduates. We were the first set of graduates in Audit as of that time. Even though in terms of acumen and what a view, all those people you don't call graduates were really experienced. So, he took three of us of that time. Mobil wanted to hire just one person and the person they wanted to hire was someone that has computer-based knowledge. At that time, I had a friend who is DPMS certified. The person that came second is also my friend. His name is Segun Ojo, who was a First class student at University Of Lagos. At that time, he had so many professional certificates. And Bola Tinubu just thought that this third guy to be able to be the overall best in J.F. Kennedy Essay I'm the North, he must have something extra. The American company wanted just one person. He walked straight from his office in Bookshop House to Mr. Ericsson, who was the Chairman/Managing Director, Mobil Oil at that time. He went to convince him. The MD said 'Bola! What the hell are you talking about?' Tinubu said 'I am not talking hell because I know what I am doing.' BAT as we used to call him. I don't know how he does it. He spots and sees you from afar. He barely just saw that I was a J.F. Kennedy scholar and said I like this one and not others. And in December of 1987, he called his people and he asked them to call me. We went to go a lunch at zero margin. Then, Tinubu now said 'I don't think they would want me to take you but you don't worry. Since I am confident it is something you can do, I would see what I can do.' And from seeing what I can do, I ended up on January 4, 1988 where I came in with two other people. That was the beginning of changing so many things around more than any before he eventually, course much later went into Treasury. He became the Treasury Manager and still pointed at me. So, that is odyssey around that time.
How would you describe your working relationship with him?
Bola Tinubu, back in the days, depend on you to either swim or sink. I never regretted a situation when I was in Abuja for an official duty and he was with the late ShehuYar'adua, the VC Of University of Ife at that time. They were all in the senate. And I just wanted to go and say hi. And he said you come here. Back in Mobil, what do we say if we get a finding. And I said if it is something that is done wrong, we say 'effective immediately' and we begin to do it. And the VC got up and said if someone can say this, the person must be a rare breed. I didn't know there was an argument between them and Bola Tinubu was boisterous because they were trying to go redtapism and bureaucracy. That was how it was adopted. I think Bola Tinubu eventually became Chairman of the Finance Committee in the Senate as at that time.
Where exactly did you meet your wife?
I met my wife after my Hsc, getting set to go to the university and my dad as at that time was the Chief Accountant at the Federal Ministry of Health and in the interim before the jamb, he asked that I do some holiday jobs and I did that at the Central Medical Library in Yaba. My wife, as of that time, came for holiday. I met her at the library. When I saw her, I said wow. One of the first thing I did was to show myself as a literature student. Apart from speaking big grammar back in the days of Hsc, I had read books by Wole Soyinka and I was just saying all the things in the book. She was wowed and said you mean you can say all of these things? And I told her that I can say more. Back in the Medical Library as I said, Medical Students we're driving cars but she would be looking at this man that speaks big grammar even though I was with my legs and could not compete with them but I could compete with my English. I could remember I wrote a small piece, Ninalowo meaning someone who has money and knows how to spend it but you have to be thriftful. She would say that he must be a man of wisdom. Now, she says that was what I used to cajole her and then call me 419 (laughs). That was in 1978.
What endeared her to you?
Her humility, and beauty. Many people felt I would not have what it takes to be able to measure up to her. When I met her, I just said 'hello I would like to talk to you about a  couple of things and I just started talking about my poet. She listened carefully. And I remembered when I took my salary. One of the things I wanted to do was to dazzle her with my family and I said 'please can you help me keep this?' She said but why? I said I think I could spend it.' She took the envelope. I got home and I told my grandma that I have a girl now and I even asked her to keep my money. And she shouted ah! They don't do things like that. I said okay well I have lost it, I have lost it.'
The following day, I told her that I just want to use part of the money. To my surprise, the whole thing was intact and she had not taken any kobo. I was surprised they are women like that. Her black was black and her white was white.
What is the vice she has been trying to make you change?
One of the vice is keeping to time. Another is colour. I would not say I am very very good with colours. She picks my colours for me. And when she does that and I put it on, people tell me you look nice. She wants me to be on my knees for some time to pray because prayer is never enough. She is the prayer warrior for us- Mayowa, Nife and Doyin. She stands up and does the generator as a woman what I should naturally do. She would tell me you try and also do likewise. I didn't know she was talking directly to the children that if you could see your father do this, who are you not to do it then. You that are boys gone are the days when you bury your head in the Newspapers and believed all the girls should do all the catering. Make sure you learn how to cook. And then you girls have to fix things.
What gives you so much joy maybe not plenty of money?
It is to serve selflessly. When I was in Mobil, I got a letter that I should help prison inmates. So, I took the letter and I said let me do the little I could as part of our CSR. And I just did what I did. I was later to hear that since it is like that they must know you. Throughout my tenure, I did that all through and I don't have to know you.
What would you love to be remembered for?
Touching lives