'Dating is a big distraction when you have a goal to achieve'
Justice Etieh was offered instant employment by the Ogun State governor, Prince Dapo Abiodun, during the 28th/29th combined convocation ceremonies of the Olabisi Onabanjo University, Ago-Iwoye, Ogun State, recently having been announced as the best graduating student of the 2018/2019 academic set of the university. He spoke with LAOLU HAROLDS.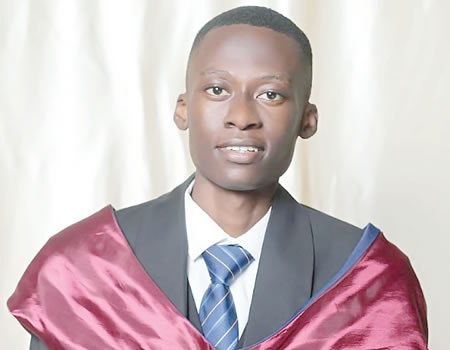 What can you tell us about your growing-up days and the impression your parents had on you?
I hail from Delta State, Ika North-East Local Government. I grew up in a home where discipline is instilled and maintained at its peak. My parents are very religious and follow biblical principles in their method of training; and this has really helped all the five children they have as we all are doing great spiritually and academically.
What's your interest in Biochemistry?
Our family doctor suggested Medicine and Surgery to my dad, and following my father's guidance I made up my mind to study Medicine in any of the federal universities in the country, although I intended to study Pharmacy. After writing UTME twice, four post-UTMEs alongside an A Level JUPEB (Joint University Preliminary Examination Board) Examination, I ended up studying Biochemistry. To my surprise, I fell in love with the course.
Did it come as a surprise to you that you emerged the overall best student in your set?
I always adored such feat, but I never believed I would graduate as the valedictorian of my set, although academic excellence was always a part of my life and my resolve was to graduate with a first class degree.
Were there challenges along the way?
Yes, a lot of them; from the struggle to settle in a new environment, to surviving on my own without my parents' supervision and guidance. I had to manage with the little stipend I got from home, which made me review my eating pattern then. I fell ill frequently then, reason being that I hadn't acclimatised myself to the new surroundings. This made me a regular face in the University Health Centre. Studying for examinations was really challenging because as students we tended to go broke that period in time. Serious challenges came after my 200 level second semester examinations where my CGPA came out first class (4.55). At this point I knew I had to work harder to maintain it. I redoubled exertions, spent more hours in the library, read overnight, deprived myself of playtime, watched less movies. All this wasn't easy to avoid as it is part of what makes a student's life interesting.
Did you have specific study patterns that you adopted?
Yes. Firstly, I made the university library my second home where I utilised all its resources. I adopted a reading pattern from my close friend, Yemi, who happens to be studying Medicine and Surgery currently in OOU. I read anytime, anywhere and I had a functioning personal timetable which I followed religiously. I made thorough research from various textbooks, the internet, watched YouTube videos, attempted practice questions, past questions and set questions personally to evaluate myself. I had my study discussion team where we argued and dissected any problem we encountered on a daily basis. After each examination, we always discussed how we tackled the questions in case of next time and to strengthen our conviction that distinctions should come out from the examination we just concluded.
Looking back, what factors would you say really worked for you to achieve this?
I made God my number one pillar, and associated myself with the right set of people as 1 Cor 15: 33 says bad association spoils useful habits. Those I associated with never settled for the norms; they always went extra mile to achieve a desired objective; and this spurred my zeal all the time. I personally was determined and persevered. I made it a daily reminder that I must come out with a first class no matter the condition.
What were your best and worst times along the way?
First was when I saw my first results in OOU which was in General Studies and I had distinctions in all. At that point I was overjoyed and my confidence bolstered. I instantly resolved to maintain that perfect start. Secondly, I always wanted to get a perfect score in any of my exams right from my secondary school, but no way, not until my 400 level first semester where I scored 98 out of a possible 100. I felt really motivated and rewarded for all my hard work.
My worst moment was when I felt like taking a leave of absence because the workload was cumbersome and hectic. I had to read and pass excellently well in 14 different courses in a single semester. I was under pressure and high expectations from my lecturers and friends. I felt I couldn't do it at that period, but I persevered still.
What kind of activities were you involved in on campus?
I engaged in entrepreneurial activities in school, I linked traders with buyers and served as a sales representative. I specialised in research, project and assignment write-ups.
How much of the social media did you indulge in, and how did it affect you?
On a scale of 1 to 10, I would rate myself 4/10 not because I am not a social media type, but because I decided to limit its use to the barest minimum during my school years. My infrequent interaction with the social media and regular interaction with Google served as a booster to my grades, because the distractions lessened.
What level of socialisation did you have, including dating?
I am sociable, I interact with people of any sort provided that person chooses to be less problematic. When one knows the right thing to do and fails to do it, it becomes a big issue. Invariably, I love to associate with easy-going individuals. Dating for me is a big distraction in the higher institution, especially when you have a goal to achieve.
What life's lesson(s) have you learnt from the way things have turned out for you?
I have learnt that man is not an island of knowledge, no matter where we are, let us try to interact; get ideas from people and let us not place our mind only on our certificate but rather let us try to be versatile. Let wisdom and fear of God be the key force in our life.