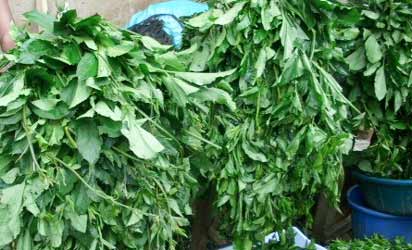 DUE to increasing incidence of stroke, an expert in stroke, Professor Mayowa Owolabi had recommended Nigerians to daily take leafy green vegetables to prevent stroke, the second leading cause of death worldwide.
Professor Owolabi, a consultant neurologist at the University College Hospital (UCH), Ibadan, said leafy green vegetables contain folic acid that has been found to protect, especially people with hypertension, from stroke.
A stroke is a serious life-threatening condition that occurs when the blood supply to part of the brain is cut off. Symptoms of stroke include trouble walking, speaking and understanding, as well as paralysis or numbness of the face, arm or leg.
The expert, who said that folic acid is also present in food items like broccoli and citrus fruits, declared that a study had identified low green leafy vegetable consumption as one of the potentially modifiable risk factors for stroke in Nigerians.
Professor Owolabi said the Stroke Investigative Research and Educational Network (SIREN) study which involved 15 health facilities in Nigeria and Ghana over a three year period had identified 11 potentially modifiable risk factors for stroke in Nigerians, one of which is low green leafy vegetable consumption.
According to him "Folic acid, also known as vitamin B12, can actually reduce the risk of stroke whether it is in people who are hypertensive or those who are not hypertensive.
"In the SIREN study, we found that consumption of green leafy vegetables is protective. It drastically and substantially reduces the risk of stroke.
"Regardless of eating it cooked or raw, green leafy vegetables when consumed frequently reduce the risk of stroke substantially and we think that folic acid may be one of the reasons.
"We also know that folic acid could actually prevent stroke in those who have problems with elevated homocysteine. High levels of homocysteine, an amino acid that naturally circulates in the blood are believed to increase the chance of heart disease, stroke, Alzheimer's disease, and osteoporosis."
Meanwhile, regular consumption of green leafy vegetables was associated with reduced risk of stroke among 75, 000 stroke-free Swedes after a decade of follow-up.
Conversely, a Chinese research team had suggested that folic acid supplements could be "a simple, safe and inexpensive treatment" to prevent stroke in people with high blood pressure.
They suggested that it may reduce stroke risk by almost 75 per cent in people with high blood pressure in the 2018 study published in the Journal of the American College of Cardiology.
It was a randomised controlled trial (RCT) involving 10,789 Chinese participants which found in the highest stroke risk group (high homocysteine, low platelet levels), 1.8 per cent of individuals taking folic acid had a stroke against the 5.6 per cent not taking folic acid.
The participants, part of the China Stroke Primary Prevention Trial (CSPPT), were aged 45 to 75 years old who had hypertension or were on anti-hypertensive medication.