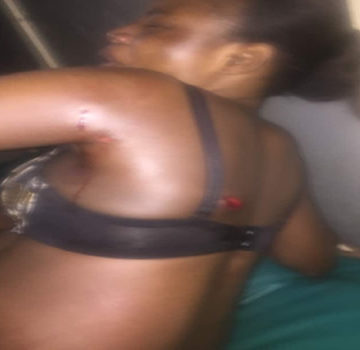 THERE was pandemonium in Iyana-Iyesi, inside Ota, Ogun State on Thursday morning when Customs officers attached to the Federal Operations Unit, Zone A of the Nigerian Customs Service (NCS), while chasing smugglers along the Idiroko road, accidental shot an 8 months old pregnant woman.
According to the elder brother of the injured woman's husband, Mr Tosin Ologunoh, the bullet went through his younger brothers wife armpit and came out through her back.
Speaking exclusively to the Nigerian Tribune, Mr Tosin Ologunoh, however, confirmed that she is fast recuperating at the Ota General Hospital, where she was rushed to immediately after the incident.
According to Tosin Ologunoh, "my younger brother's wife, Mrs Bukola Ologunoh was on her way to work around 
7:30 AM
 in the morning when she was hit by a bullet that was shot by a Customs officer at Iyana-Iyesi junction.
"She is 8 months old pregnant and is the cashier of IBA PLC in Ota. She did not even know where the bullet came from. It was the Okada riders that always park at the Iyana-Iyesi junction that chased the Customs officer and almost lynched them, if not for the intervention of men of the DSS that were passing along that route at that time.
"It was the
DSS
operatives that calmed the angry mob and asked that my younger brothers wife be taken to the General Hospital. The DSS operatives now took the Customs officers to the Iyana-Iyesi police station, where they were later moved to the Sango Area Command of the Nigerian Police Force.
"The bullets have been successfully removed and she is fast recuperating at the general hospital.
"I am still at the Sango police station with my lawyer."
When contacted, the Spokesman of the Federal Operations Unit, Zone A of Customs, Jerry Attah, confirmed the incident and explained that the Customs officers were moved to the police Area Command in Sango out of fear of them being lynched by the angry mob.
"Some of our men are at the Area Command of the Sango Police Station, but not on detention. They were moved to the police station to avoid any of then being lynched by the angry mob.
" They were on the chase of smugglers and the shooting was not deliberate.
"However, the injured woman is being taken care of at the General Hospital in Ota. All her medical bills is being handled by us. Everything is very much under control," Attah stated while responding to enquiries by the Nigerian Tribune.