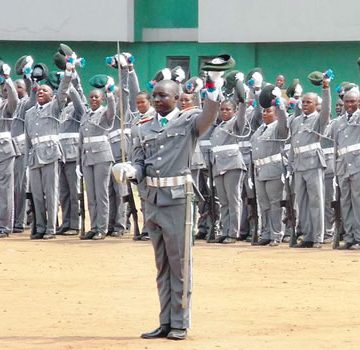 THE Apapa Area command of the Nigeria Customs Service has intercepted 4by40 foot containers of controlled and prohibited pharmaceutical products imported into the country from India worth about N110m.
The controller of the command, Comptroller Jubrin Musa, while addressing journalists at the command 
on Monday
, said the seized drugs include cartons of Tramadol Hydrochloride tablet, Tramadol capsules of different milligrams, Collstop Chlorpheniramine Maleate Capsules and Dobumol Anagestic.
He listed other seized drugs to include Col-Cap capsules, Ibramol, Chest and Lungs tablets, and Rally Extra among others.
Jubrin said the drugs imported by one Villa Gold Pharmacy were not certified by the National Agency for Food and Drug Administration and Control (NAFDAC) because according to him, they were imported above the required limit allowed under the law.
He said, "Tramadol is not under trade prohibition but it is controlled and regulated. The number of milligrams that is supposed to be imported is known to all of us. Therefore if someone is importing the drug in that controlled milligram, NAFDAC will certify it but where you import milligrams over and above the control limit, that is where the law is infringed upon.
"Worried by the present level of insecurity in the country, one wonders what negative impacts would have resulted in the aftermath of these drugs finding their way into the larger society. This could have further aggravated the already tensed situation in the country."
He said the Duty Paid Value (DPV) of the seized drugs stood at N110million adding that one person arrested in connection with the seizures has been granted administrative bail while the investigation is ongoing.
On the aspect of revenue generation, the controller said the command in the month of January 2018 collected a total sum of N31billion as against N25.9billion collected within the same period in 2017, representing an increase of N1.5billion.
He said with an annual target of N426billion, the command is expected to generate N35.5billion monthly; assuring that the command will meet and surpass its target for the year.
Jubrin added that the Nigeria Customs Information System (NICIS) 11 software would soon be deployed to the command, adding that with the software in place, all revenue leakages would be blocked thereby increasing the command's revenue and compliance level.