Customs officers hit schoolchildren with seized vehicle in Ogun, kills one
•As irate youths burn down vehicle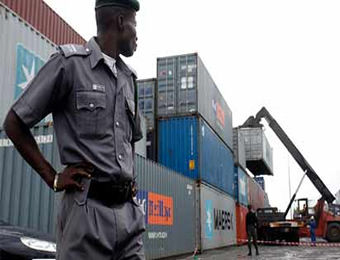 Customs officers attached to the Ogun State Command of the Nigerian Customs Service (NCS), while driving an arrested tokunbo vehicle, a Mercedes Benz ML on Monday, rammed into a motorcycle carrying school children of Ojomo Community High School located in Ihunbo town in Ipokia, Ogun State, killing one of the students instantly on the spot. This is even as irate youths of the town, vented their anger by burning the Mercedes Benz ML while the Customs officers took to their heels.
Ipokia Local Government is a border town between Nigeria and Republic of Benin.
Speaking to Tribune Online, a resident of the town, Olajuwon Biliamin alleged that the secondary school student was killed by Customs officers while on neck breaking speed within the town.
Biliamin who was furious about the incident said Customs should be mandated to stay at the border and not be seen driving at neck-breaking speed within communities, killing innocent Nigerians.
According to Biliamin, "The life of an innocent boy has just been cut short by overzealous officers. They should be allowed to stay at the borders and stop killing innocent Nigerians all in the name of arresting smuggled vehicles and products."
ALSO READ:  Governors afraid of organising flamboyant parties because of EFCC ― Magu
Also speaking on the issue, another resident, Adeogun Emmanuel Adesola bemoaned the activities of the Customs officers in Ipokia Local Government.
Adeogun who also revealed that secondary school students were killed on Monday by an unrushing vehicle being driven by Customs officers, also asked the Federal Government to restrict activities of the Customs to borders to stop avoidable deaths of Nigerians.
When contacted, the Public Relations Officer of the Ogun Customs Command, Abdulahi Maiwada said the incident was an accident.
"The seized vehicle had a head-on-collission with a motorcycle carrying secondary school students in a market in Ihunbo in Ipokia Local Government.
"Our officers were conveying a tokunbo vehicle and in the process, they had an accident. It was a collision with an Okada rider conveying some secondary school children.
"It wasn't a stray bullet or accidental discharge thing. It was an accident which occurred because the place was a market. The situation got out of hand and the youths in the town burnt the seized vehicle. We are currently trying to restore peace and order back to the town," Abdullahi Maiwada stated.