It is the expectation of every retiree to enjoy a deserved rest and decent life after years of service but this is not so. The current economic recession has not helped matters too. Our reporters Biola Azeez, Johnson Babajide, Austin Ebipade, Jude Ossai, Oluwole Ige and Olayinka Olukoya, report that pensioners in the country are suffering untold hardship even as many continue to die waiting for pension allowances that do not come on time.
As the economic situation in the country continues to bite harder, senior citizens of the country, especially pensioners, are feeling the pinch more than any other set of people. This is because most of them are living on stipends  (pension), while their children, who traditionally should be providing extra financial support when necessary, have also either not been paid for months, or simply have little to spare for their aged parents.
Barely three weeks ago, pensioners in Benue State, who could not take it any longer,  stormed the government house to demand payment of their 10-month arrears, and also demanded for the  implementation of the increment in their (pension) allowances.
The peaceful protest was halted when two of the pensioners slumped. It took the prompt intervention of other pensioners to get them revived. The protest was the third the pensioners had embarked upon in the last four months to draw attention to their plight.
Luck was the saving grace for Mr Bem Atswen who retired from the state ministry of finance four years ago, else it would have been a different story for him penultimate Tuesday if his neighbour had not lent him N2,000 for the purchase of drugs which he was supposed to take after suffering a stroke.
Speaking to Sunday Tribune recently at Ikeja street, Wadatta area of Makurdi, Mr Atsen said he could have joined his ancestors or suffered a stroke, "if not for the intervention of a neighbour who came to my rescue that day." His speech was slurred as he tried to narrate his close shave with death until his wife, Bridget, came to his support.
"He has been ill for some time. Though he is hypertensive and diabetic, the illness took a dangerous turn recently. He could hardly talk, neither could he eat for the past two months because we could not afford money to purchase his drugs.
"Efforts to get someone to assist us with money were fruitless because we were owing many people money until this neighbour came to our rescue when I rushed to him.
"Looking at him now, he needs to see a doctor, but where do we get the money? We tried to invest in our two older kids who graduated from College of Agriculture, Yandev. After their service year, they are yet to find jobs anywhere. We have to make do with the little money I bring home from the petty business I do," she said.
For many of the pensioners, they only look forward to the money they struggle and go through hardship every month is not more than N11,650, while many collect less. Some have even abandoned their homes when they could no longer fend for their families.
Spokesman of the pensioners under the aegis of  Concerned Pensioners, Mr Peter Kyado, said five pensioners die weekly as a result of non payment of their pension allowance.
This group, according to Kyado, are those who had retired since 2014, but are yet to be captured for monthly pension allowance for almost two years. Since their issue could not be handled by the Nigeria Union of Pensioners, Benue State, "there is the need to take their fate in their own hands and let government know of their plights."
Kyado spoke futher: ''It is an irony that today, we  are living in penury as we can no longer feed ourselves. We don't have  shelter nor medication, all because of the  non payment of our entitlements for several years. We are even being treated as weaklings and irresponsible persons.
"As senior citizens, we gave our very best to our state, country and humanity. We deserve respect. Also, we demand timely release of our retirement benefits as contained in the 1999 constitution."
As the country enters a recess, with the national currency losing value faster, the pensioners have equally called for an increase in their pension allowances. This is despite the fact that what they earn presently has not been harmonised since 2001 to 2010.
For Benue State pensioners, the good news for now is that the state government has set up a committee headed by the state commissioner of Finance, Mr David Olofu, to liase with various groups of pensioners in the state to avail them of the steps being taken to ameliorate their plight.
Olofu said that government  had agreed to set aside N400 million monthly. This is  outside the normal monthly pensions allowance, to be paid to retirees. The amount is  to be drawn from the monthly budget support fund to the state government.
The commissioner added that "half of the money is meant for local government pensioners as loan which will be refunded by the councils."
He also explained that the government will soon carry out a verification exercise to know the actual numbers of pensioners in the state, adding that the total indebtedness to pensioners in the state at present stands at N35 billion.
Dr Chris Ugwu, also a retiree, has a different story to tell.
"I have to be fair to Governor Ifeanyi  Ugwuanyi and his government. I retired as Head of Service in Enugu State and by large, we have to commend him for paying monthly pension regularly to retirees. On how I am surviving the economic recession, I operate a divine economy determined from above. I am happy and I have been living a normal life as God has continued to lead me and make me live well.
Mazi Chidi Eze is from Udi in Enugu State. He retired from Nigerian Railways Corporation in 1993, but he is at a loss about what is happening in Nigeria these days. "It has no meaning. Life is difficult and many people are hungry while few are eating fat and enjoying.
"During the era of the colonial masters, retirement was something good and most workers in the country prayed for it, but since the white men left, retirement has become a curse of sort. Many retirees are dying of hunger, but in my case, Railways is trying. They pay me monthly pension as at when due. I pray they continue to do this.
"As of this moment, I have no regret. I manage the little available to me, especially what comes from my children, to survive the economic depression.
Tales of agony
For pensioners in Osun State, it has been tales of agony, frustration and anguish regarding the payment of their pension allowance after retirement from active service.
Mrs Adeyemi Atinuke, who declined to disclose the amount she collects as monthly pension allowance. said she retired as a former head teacher in A.U.D Sabo Primary School, Osogbo, and since she became a pensioner, she has discovered that pensioners in this country go through hell before collecting their pension.
"I wonder what would be going through the minds of our young ones that are still in service, seeing elderly citizens who in their youthful days had given their best in serving the country being deprived of the fruit of their labour. It is morally wrong.
"Presently in the state, pensioners are being owed pension allowance for May, June and July. This is not limited to Osun alone because everyday, the media is always awash with news of pensioners dying over unpaid allowances.
"Many people who have worked tirelessly for 35 years would come down with one sickness or the other. Such people need money to treat themselves. Aside, it is a natural phenomenon that people age as years pass. And when aging sets in, one would definitely need money to keep body and soul alive.
"Regrettably, our governments  are less concerned about the plights of pensioners. But I appeal on behalf of my co-pensioners to governments to kindly assist the retirees by paying their allowances and gratuities promptly," Adeyemi said.
Another pensioner, Mr Rasaq Adekiitan said "life has been very tough for pensioners in Osun State. We are using this opportunity to call on Governor Rauf Aregbesola to ensure regular payment of our allowance."
On how he has been surviving the challenges occasioned by economic recession, he said he has presently engaged in the business of buying and selling of used clothes. "The proceeds I realise from the sales has been handy in taking care of my financial obligations in a limited way. With this, I am fairly coping with the current situation."
Comrade S. O. Ranti, vice chairman, Nigeria Union of Pensioners (NUP), Kwara State,  told Sunday Tribune that "as Nigerians, we are rugged. If anyone says there's a particular strategy being employed to survive this recession, that person is deceiving himself. We are all living by the special grace of God.
"As an elderly person, our children are supposed to be taking good care of us, but they can't even take care of themselves.  So, we will continue to devise different means of survival until we no longer have the ability to continue, then we surrender ourselves to fate.
"We can not define our survival nowadays. Some people live by special grace, some by charity, some even go begging. For me, I thank God, I'm surviving by the grace of God. Some of us use rickety cars. Honestly, I was going somewhere one evening when I ran out of fuel. I had to beg an okada driver to go with N1,000 to get fuel for me. In fact, he was asking me if I would go with him. I told him he should not worry, thinking I may be afraid that he might go away with my money. It's as bad as that.
"Everybody is on the edge and aggressive. Everybody is mindful of how they  manage their little resources. I only thank God the more because if one should fall sick in an attempt to survive, that would be double tragedy. As human beings, the grace we have is the ability to manage our health.
"At above 70 years of age, one can't claim to have 100 per cent good health. Many pensioners are on drugs everyday. When one sees pensioners crying out over unpaid pensions, go and see them after being paid. The first port of call is a pharmacy to get the drugs that will last one for about 15 days or for a whole month.
"Anyone above 70 years among us is on regular drugs in order to live longer. Some of us don't eat more than twice a day. One can say it is all right to eat that way considering one's age, but there are some that can eat four times daily, but they had to cut it down because there is no means to feed the urge for more food.
"The well-to-do in Nigeria today is not up to 10 per cent. 90 per cent are suffering. You see some people well dressed, without any ailment, coming to you to say they have not eaten. Many people don't eat until they get alms from people who have.
"For me to take N25,000 as pension, and spend on feeding, fuel my car, and the rest, it is only by God grace. I also have to struggle to send money to my son in school in Edo State out of this meagre amount, so that he doesn't join bad gang.
Chief Raphael Adeniyi Olaifa. The Olukotun Ode of Ayedun said "it is not easy to coping in the current economic situation in Nigeria today. I can even say that only 5 per cent of the Nigerian population of today are happy and they are the elected political office holders.
"I used to eat three times every day, but I changed it to either once or twice. If it's possible, I will eat only once daily. Pensioners are all fasting now and I pray God will answer our prayers. I had three cars before, but I drive a Volkwagen car now, which is the cheapest for me in terms of petrol consumption. I have five children who are graduates, but they  are with no jobs. Do I force them to go and steal all because I want to survive? I thank God my wife is working with the University of Ilorin. There are some pensioners receiving as small as N5,000 as pension in a month. How can one survive on such a ludicrous  amount in a month with a wife and children? That's why you see many begging to survive. Many female teachers are now harlots because their salaries are not regular. N1,000 is very attractive to them. The only thing that can save us in Nigeria is for God to intervene. Imagine a situation where many politicians don't even spend their salary and also get wardrobe allowance, while pensioners are looking forward to having gari for a meal.
Alhaji Ahmed Abdulahi said "this recession and the economic situation is pathetic. As a pensioner who retired with a meagre pension, one needs serious financial discipline to survive. I think people who have suffered and toiled for government should have the best of life for themselves after retirement, but unfortunately, reverse is the case.
"In Kwara State, pensioners are not enjoying life as what they earn cannot meet the ever-increasing needs and cost of living of pensioners. Sadly, this is the situation we've found ourselves and we don't have any other country to go than to keep on praying for the government in the state and at the federal level for improvement.
"I was happy to read news emanating from Britain that one of the first ministries to be looked into by the new government there is the public service and pension. I was touched. Contributory pension scheme by Chief Olusegun Obasanjo is no longer the same as he intended it.
"Even what people receive from the scheme is nothing to write home about with the economic downturn. So, I advise people to do what's called anointing account in banks like JAIZ banks. I have done that."
Mr.  Kayode Bello also believes that life as a pensioner in Ogun State has not been easy at all.
"As it is, we are yet to collect July pension. We retired in December 2012 and we are yet to collect our gratuities. Some of us have died.  Some of us who have children in higher institutions cannot afford to pay our children fees.  It is that bad. I don't have any money to start up a business. We have been surviving through the help of God.
Mr. Moshood Oladipo, a pensioner who retired in 1990 at the Ministry of Works said "it has not been easy. The economy is bad and everything is very costly. Imagine N1,000 is not anything again. In the market what we are by for N500 is now what I buy N1,000.
"I manage my pension well, but then it is not regular. I don't spend anyhow, I have budget for everything. I am a farmer too, so I depend on my farm produce. God will help us.
"We have to take agriculture serious in this our country so that we will be able to feed ourselves. "
Mrs. Adediran Ronke admits that in this economic situation, life as a pensioner has been tough. "The pension is not enough to survive on because of the increase in the price of basic commodities, especially food items.
"The worst part of it is that the state government often delay in paying the pension. Most times, pensions are not paid until 25th, 26th, 27th and 28th of the following month, I wonder how the government wants us to survive.
"As a senior citizen, there is no strength to run around in search of other means of livelihood. I have only been surviving by the grace of God and donations from my children and other family members.
"I urge the federal government to urgently do something about the economy  because it is not only affecting pensioners, but everyone."
Bayelsa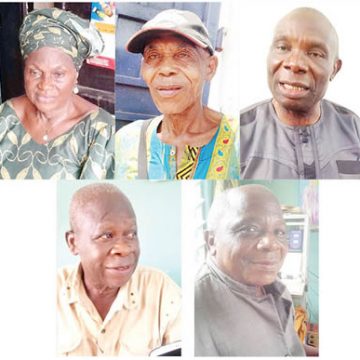 In Bayelsa State, the situation is not quite different as pensioners continue to groan despite being subjected to compulsory verification and biometrics in order to ascertain their true identities.
Many, having gone through the pain of not been paid for five months, have become susceptible to preventable ailments, such as malnutrition and massive weight loss.
Taking a cue from Benue State, the untold hardship has left most with no option than to stage a peaceful protest at the government house.
One of the pensioners, Mr. Ayibaebi Amafini, travelled from Ekeremor to the Due Process Bureau, venue of the verification exercise in Yenagoa. "The exercise lasted for more than three days, but thank  for my nephew who came to my rescue and also took me back home. I would have been stranded," he said.
For now, to sustain himself, Amafini has become a farmer to feed himself and his family.
Another pensioner, Madam Grace Barango, who hails from Brass LGA, said her experience at the verification exercise was horrible and that she did not want to be reminded of the trauma of surviving for five months without pension. But she is struggling to survive as a petty trader.
Mr. Azibalua Foster from Ogbia LGA supports two children in secondary school, three in primary school as a pensioner. When the pension was no longer coming, he was left with no option than to sell some of his ancestral land to survive the recession. He also farms there.
To Mr Mike Okoh, life has become unbearable. "My brother, I was crying that I was stagnated for not being promoted to Grade level 16, having been promoted last in 2006. I retired in 2014, only to meet a great quagmire after my retirement and  up till now, I have not got my gratuities.
"So, it has been very terrible. When you discover the evil that comes with retirement, especially in a poorly paid state like Enugu, where one lives from hand to mouth, you would wish you had not retired. But when will one not retire? We  borrow before the end of every month and find it difficult to save.
"The recession is so harsh, especially for the stagnated former civil servants. I have no alternative than to do menial jobs. I am a newspaper vendor  and also do other things just for survival.
"No matter how healthy one may look, the situation with retirees is such that they need their monthly pension in time. But today, it is like retirees have been used and dumped. I want governments at all levels to look into the plight of pensioners and make us live like life like normal human beings.