Critics uninformed, my administration spent over N45bn on state tertiary institutions ― Ajimobi
...charges 11 new permanent secretaries to join hands with Makinde's govt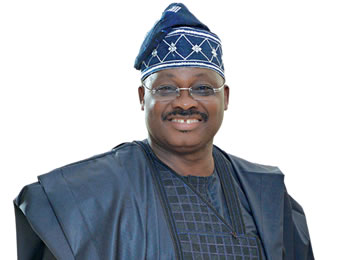 Governor Abiola Ajimobi of Oyo State, on Wednesday, knocked out those criticisms that his administration had failed to give due attention to tertiary institutions in the state, noting that his government spent over N45 billion funding the state-owned tertiary institutions.
Ajimobi who stated this while inaugurating Oba Akinbiyi Model School II, Mokola, Ibadan, said all policies and actions in relation to the state's tertiary institutions was aimed at repositioning the schools for financial prudence.
He added that his administration's investment in education also included the renovation of classrooms in about 100 primary and secondary schools across the state.
"Contrary to uninformed opinions, this administration has succeeded at repositioning all state tertiary institutions
setting them on the path of financial prudence for sustainable management and development.
"We have spent over N45 billion, close to N46 billion, on funding state tertiary institutions in the past seven years. We have done more than N6billion every year on education," Ajimobi said.
ALSO READ: How I was drugged, gang-raped in Lekki hotel, woman tells court
Speaking further, he said that the result of the state government's policy of public/private participation in the running of schools was evident in the commission of N8billion by individuals, old students and other members of the public through the Schools Governing Boards (SGBs).
The inauguration of the model school saw its principal, Mrs Bukola Oduwole, urge students of the school to judiciously utilise the facilities towards acquisition of knowledge that will transform the society.
Also officially inaugurated for use by Ajimobi on Wednesday, were the rehabilitated 3.6km Ijokodo-Apete road (now Ambassador Olusola Sanu road), including associated bridge works, and the Challenge Roundabout-New Garage road (now Lam Adesina road).
Prior to the commissioning of roads, Ajimobi had sworn in 11 new permanent secretaries with a charge for them to cooperate with the incoming Governor Seyi Makinde government with a view to further raising the bar of governance in the state.
Noting that their loyalty was to government not the individual who appointed them permanent secretaries, Ajimobi said what was imperative was their resourcefulness, dedication and commitment to the socioeconomic development of the state.
He also decried wanton leaks in information discussed at high levels of governance, urging permanent secretaries and members of the state executive council to respect their oath which preaches confidentiality of information they get by virtue of their high position.
The new permanent secretaries are Oladeinde Fatai, Abioye Christianah, Jimoh Adisa, Eyitayo Adejoke, Ajagbe Joel, Adedigba Adesola, Balogun Adebowale, Olaleye Iyabode, Yinka Fatoki, Audu Akeem, Olanrewaju Tajudeen.