The management of University College Hospital (UCH) Ibadan has asked its staff who are over 60 years of age to work from home.
In an internal memo from the hospital's Chairman Medical Advisory Committee, all staff above 60 years of age were "strongly advised to work from home."
The body of the memo from UCH management reads:
In view of the increase in the number of cases that are positive to the COVID-19 tests in the country from three to eight in the last 48 hours and anticipation of the likelihood of further increase in the epidemic ramps up. The management directs as follows:
All staff are advised to observe strictly personal protective measures to prevent infection or transmission of the virus.
To avoid all non-essential travels within or outside the country.
To avoid large gatherings within and outside the premises.
Heads of Departments to ensure that members who had travelled in the previous 2 weeks to any of the 13 countries with travel restrictions by the Nigerian Government practise self-isolation for a minimum of 14 days. If symptom develops, staff is to call the hospital COVID-19 response hotlines
All staff above 60 years of age are strongly advised to work from home.
All staff are to cooperate with members of the task force on COVID-19 who will be visiting their work spaces to ensure compliance with steps to prevent work place transmission of infection.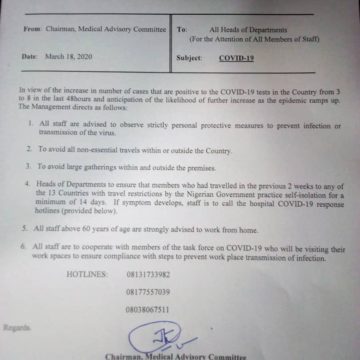 YOU SHOULD NOT MISS THESE HEADLINES
Senator Shuaibu Returns To APC Secretariat Says I'm Not Sure Oshiomhole Will Heed My Advice
Estranged deputy national chairman, North of the All Progressives Congress, Senator Lawan Shuaibu returned to the party national secretariat on Wednesday. Recall that the national chairman of the party, Comrade Adams Oshiomhole announced the reversal of the suspension of Senator Shuaibu and the… Read full story