COVID-19: Lockdown Oyo State, NMA urges Makinde
• Don't shut down markets, we're breadwinners ― Ibadan traders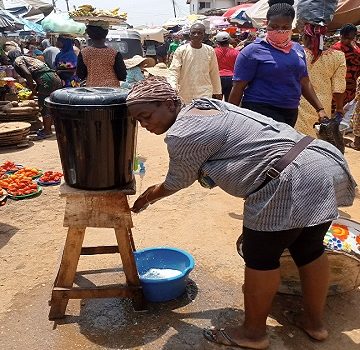 Chairman, Nigerian Medical Association (NMA), Oyo State, Dr Akin Sodipo, has urged the Governor Seyi Makinde led government to consider a lockdown of activities in the state.
Such lockdown, according to Sodipo, will curtail the movement of people thereby containing the spread of coronavirus in the state.
Sodipo who made this call in a statement, on Thursday, said it was expedient for Makinde to also direct a stop of all gatherings to stop a spread of the virus.
Though he noted that there remained only one confirmed reported case in the state, Sodipo said it was important for residents to stay at home and reduce contact with people because everyone is a potential carrier of the virus.
Importantly, Sodopo urged the state government to expedite action on the refurbishment of facilities converted to isolation centres and provide necessary protective equipment for all involved in preventing an outbreak of the virus in the state.
"So far, Oyo State has only one confirmed reported case and all of us must do everything within our capacities to prevent escalation of the infection, hence this clarion call. We still have a chance to do something now although time is not our friend in this matter. For now, what is required of us to stem the tide is simple; stay at home and reduce contact with people knowing that everyone is a potential carrier of the virus.
"We appeal to the state government to expedite action on the refurbishment of facilities converted to isolation centres, assemble experts from different disciplines involved in the management of disease outbreak and crisis management to keep guiding the efforts of the government, provide all necessary protective equipment and security personnel for those involved in taming the spread of this virus.
"We also urge the state government to place a directive to stop all gatherings as it is the only way to stop this spread, if possible, a total lockdown of activities in the state including the movement of people not on essential duty for a period," Sodipo said.
ALSO READ: COVID 19: NGO takes hygiene campaign to market places
Meanwhile, traders and market leaders have urged the state government not to go the way of some other states in shutting markets as a way to curb the spread of COVID-19 in the state.
From Bodija to Oje, Ogunpa, Oja-Oba markets in Ibadan, the traders argued that any closure of the markets would spell doom for their livelihood and that of their families.
Several who spoke with Tribune Online held that they were the breadwinners of their families, and their everyday consumption of meals depended on sales made at the markets per day.
While buying and selling remained in the usual jampacked manner across the markets, Tribune Online sited buckets of water and washing liquid in some locations within the markets, while a few traders were seen using nose masks and gloves.
A yam seller at Oje market, Mrs Maria Ganiyat, described the coronavirus as the world facing retribution for its numerous sins.
Describing herself as the breadwinner of the family, she wondered if the government will become responsible for taking care of her family if it shuts markets.
"Will the government give us our daily bread if they shut the markets? Many of us do not have husbands, our children are not employed. We only survive as a family from our sales here in the market.
"Coronavirus outbreak is a result of our many sins so the only solution is to pray to God. The government should release the money they have in their custody and find a solution to the problem. There is no need for them shutting churches. Our numerous sins are behind the virus," Ganiyat said.
Speaking, a snail seller at Oje market, Mrs Idowu Ikotun held that her family's daily bread depended on her daily sales at the market.
While decrying that parents will greatly bear the brunt of the closure of schools and markets, she urged the federal and state governments to provide welfare packages if they will be compelled to stay at home.
"We don't mind staying at home however we can't have our daily bread without coming to the market. This is where we get money for our meals daily. The government should take necessary steps to stem the spread of the virus and make necessary provisions for us to leave meaningful lives," Ikotun said.
Though he noted that they were bound to comply to such directive, a meat seller at Bodija market, Mr Wale Olaiya lamented the hunger that families would face should the state government resort to shutting markets to curb the spread of coronavirus.
"We support the closure of schools, churches as we do not know who has the Coronavirus. We are bound to comply with the directive of the government. However, they have to bear in mind the fact that not everyone has enough money in the store. If this market is closed for two days, my family will go hungry," Olaiya said.
On his part, Mr Kazeem Mosobalaje of Oja Oba resorted to pleading, urging the government to be merciful and not shut markets.
"The government should not shut down markets as it will affect our daily bread. We know they have our interests at heart however, if we don't get to market daily, our families will go hungry. The government should have mercy and not shut markets. We are making use of gloves to sell and the customers themselves are using protective masks," Mosobalaje said.
A nylon seller at Oja-Oba, Mrs Adigun Kafayat held that the state government should consider those less privileged and less than average families in taking a decision to shut markets.
Kafayat, just like another trader, Mrs Olaronke Mustapha, urged the government to make welfare provisions for less privileged families in the event of a closure of markets.
Meanwhile, Babaloja, Oje market, Mr Ayinde Saliu, said the market had done its part by preaching precautionary measures to traders and making requisite provisions like water and washing liquid for both buyers and sellers to wash their hands.
Whether a partial or full closure of markets, Saliu held that what was key was people heeding to instructions on precautionary measures.
"I don't think we have got to a stage of markets being closed. What should be paramount is adherence to those stipulated measures.
"If the market is restricted to those selling food items, there will still be interactions and people will still have to leave their homes to come to the market.
"I liken the outbreak of COVID-19 to God revealing his magnificence as it seems to have as victims those high and mighty in the society, and are always going abroad.
"However, we don't think that the government will take an uninformed decision so we are bound to comply," Saliu said.