COVID-19: Lagos to open 4 new isolation centres
• Says 1m households reached through ACS, but only 3 active cases recorded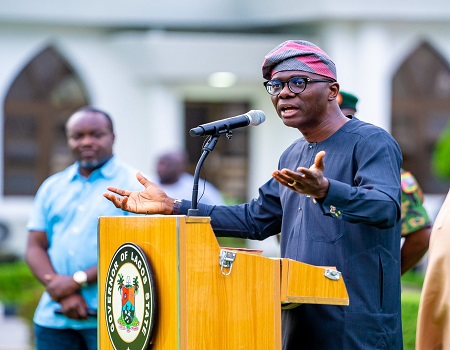 Lagos State government said it will in the coming weeks open up four new isolation centres across the state with a view to strengthening its fight against the novel coronavirus which has continued to ravage nations of the world.
This was as it disclosed that over one million households have been reached through the government's Active Case Search (ACS) and about 1074 persons were found with symptoms related to COVID-19 and only three active cases were recorded so far through the house to house search.
The State Commissioner for Health, Prof. Akin Abayomi, disclosed this on Sunday while speaking during a live update on Covid-19 in the state, explaining that these new facilities are the 70- bed space centre in Landmark, Eti-Osa, 160- bed space in Gbagada, a new isolation tent of 150- bed space and the permanent isolation facility with 300-bed spaces both in Yaba.
Abayomi, while urging Lagosians to apply protective measures, recalled that the state had recorded 306 cases, 93 recoveries and discharged cases and 14 deaths so far.
YOU SHOULD NOT MISS THESE HEADLINES FROM NIGERIAN TRIBUNE
Buy and read digital replicas of your TRIBUNE titles by subscribing through E-VENDING
Buhari Pays Tribute To Kyari
Following the demise of his Chief of Staff, Abba Kyari, President Muhammadu Buhari on Saturday paid glowing tribute to the late Kyari describing him as a true Nigerian patriot. The President's statement read: TO MY FRIEND, MALLAM ABBA KYARI… Read full story
We May Not Have An Economy After COVID-19 —Adebayo, Professor Of Economics
Professor Abayomi Adebayo is a lecturer at the Obafemi Awolowo University, Ile Ife, with specialty in Development, Health and Labour Economics. He speaks to DARE ADEKANMBI on the economic implications of prolonged lockdown as a result of COVID-19, the 2020 budget and other matters… Read full story
A Son Like Bello El-Rufai
If you want to know how the mind of Kaduna's first son, Bello el-Rufai works, check his Twitter page, @B_EL-RUFAI. He has two images there. His posts go out with a handsome image of his father's godfather, Muhammadu Buhari, arching his neck like a model at a lavish photo-shoot. It must be a rare exulting moment for the… Read full story
Covid-19: Turning Adversity Into Opportunity
Never in our lifetime have we endured the kind of socio-economic disruption the world is currently experiencing, as the Novel Coronavirus (COVID-19) ravages people, and continues to cause massive economic displacements across the globe. Since the virus was discovered, it has infected two million people, and caused over… Read full story