COVID-19: In my church we've lost over eight people —Adeosun, US-based medical practitioner
•Going to work each time is like going to war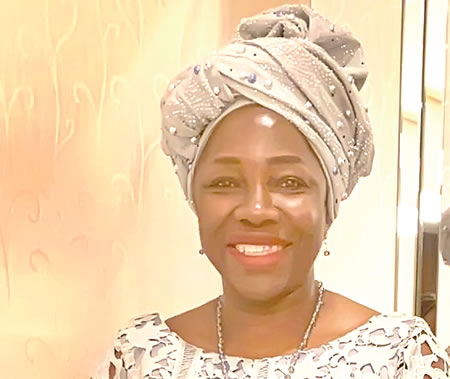 United States-based Nigerian-born medical practitioner, Professor Sherri Adeosun, is the president of the Relume Foundation, Nigeria and USA, a charity and free health care initiative. In this interview by SEYI SOKOYA, she speaks about the effect of COVID-19 on Nigerians in the Diaspora, among other issues. Excerpts:
As a Nigerian based in the United States, could you let us know the situation over there as the coronavirus pandemic is biting harder in the western nations?
As we all know, the world has become a global village, so, what started last December in China has spread all over the world and has affected the main parts of our lives. The effect of the virus, especially the death rate, is alarming. I know some people in Nigeria don't believe COVID-19 is real. Some of them think it is propaganda. I want to state categorically that it is real; I see people die every day with my own eyes. So far in the United States, we have over 40,000 deaths and the death rate around the world has been so frightening. These are just the deaths that were accounted for COVID-19.
 Nigerians in the Diaspora have also been affected by the pandemic, how have you been able to stay safe?
There have been some Nigerians who have been affected, just like any other human, we are all together and as Americans are getting affected, Nigerians are also getting affected too. My husband who is a hospital administrator was constantly exposed to it and was tested positive in March, but I thank God for seeing him through it. I got sick too but I didn't do the test. I had all the symptoms but I am well today and I thank God for that and my husband is back at the hospital working. The testimony is that when he did his test last week he was negative. Every time we go to work it is like we are going to war, we have been praying and interceding for him and God has kept him so far and I believe and trust that God will continue to keep him. In my church, we have lost over eight people, some of them were my personal friends, deacons, so, this thing hits so close to home; people that I dined with, fellowshipped with, my friends have died from it even my colleagues at work. One of our nurses had died, among others.
As a medical expert with vast exposure, what do you think can be done to curb the pandemic?
One of the main things that can be done is something that most countries have put in place: social distancing, about 6 feet away from the next person, if you have to go out. Evidence has shown that the virus is airborne, if somebody sneezes or coughs, it can travel and you can be affected. A recent research I came across, though not 100 percent confirmed, stated that when an infected person is talking to you, you can get it. When some people have it without showing symptoms and while they are walking around, they can pass it around. That is the craziness about this. To answer your question, social distancing is very important. In America right now, if you have to go out, you have to use your mask because there is community transfer. People coming from China, Italy are bringing it and in that community, it is being transferred the same thing is already happening in Nigeria.  I want to urge Nigerians not to take the issue with levity as the pandemic is real. Presently, how the virus came about does not matter; what matters is that the virus is here and is spreading. It is really important for us as a community to look at what is happening and take precautionary measures. We also need to take a cue from what some countries like Singapore did differently.
As a medical expert, what are the efforts you have made to support communities and even government to curtail the pandemic?
We are currently making efforts through our foundation, Relume Foundation. I had a conference with some medical professionals in Nigeria and America. We shared ideas on what we did right and what we did wrong so Nigerian health care personnel can learn from that. We had one of the SEMA/ FEMA representatives, a Permanent Secretary in Yobe State. We also had some doctors we work with in Ogun, Lagos and  Yobe. The main idea was to let them know that it is real and that there are things that could be put in place to make sure you can recognise it when a patient comes to you. Using Singapore as a case study, one of the things they did well was that they didn't make their case go out of hand when it was noticed. They referred abnormal pneumonia occurrence in their emergency rooms just as they realised that there was an epidemic going on in China. This made them create a fast testing kit and they started testing people extensively, because the more people you test, the better your chances of knowing those that had been exposed to it and when you know those that have it, they have to be isolated.
What America did wrong was that it isolated the people in their homes. Now, you have a family of 10, and you isolate the sick person in that home.  How effectively can someone who is not a health care professional maintain staying in their home and not infect other family members? What Singapore did that was excellent was that they isolated people in specified areas. Though we learnt that the government of Nigeria is trying to make effort to trace contacts of the patients, but they need to be more effective. The mass testing will surely help to narrow the gap of what many countries are going through. The situation is out of control in America right now. When America started to isolate, we did it at home, we didn't close our borders fast enough and if Nigerians and others can learn from that, they can also realise the importance of social distancing. My prayer is that it will not get crazy in Nigeria, because the health care system is not built to handle it. I don't know if the whole of Nigeria has up to 500 or 1000 ventilators from my conversations with medical directors in Nigeria, I could be wrong. The major thing is prevention and adequate proactive measures.
You and your team were on a health care mission to Nigeria when COVID-19 was almost at its peak, how would you assess the mission to Nigeria to give free health care to the people?
The mission was very successful and at Relume Foundation, one of our ambitions is to support people in many ways, especially through free health care services and charity. Even after we left Ikenne, Ogun State, there were some people that needed surgery and we connected them with our medical experts in Nigeria and the surgeries were successfully done after we left. When we went to Yobe State; the state was out of the ordinary. The programme we did was sponsored by SPDC/NNPC and the joint ventures. That was really successful. We did 50 major surgeries and 65 regular surgeries, but the good thing that came out of it even in the midst of the coronavirus outbreak was that it wasn't thick in Nigeria then. We felt calm in Nigeria. Part of what we did was showing them the importance of hand washing and I personally showed them in the villages we went to, how to wash hands properly. Presently, we are on a mission to send our team to those communities to sensitise them on the importance of hand hygiene and what COVID-19 is all about and why we are making so much awareness on social distancing.
Are you making any effort to support the government and vulnerable who are currently feeling the heat of the pandemic?
Now that everyone is at home, we have deemed it fit to connect with people around the world through social media to engage in virtual exercise. We are all in our houses and our mental health is as important as our physical health and being indoors can be difficult. So, we came up with the idea of having exercise on Saturdays, we have three sessions where people can join us through Zoom. We have inspired yoga, moderate cardio and intense cardio. It is free; we have certified instructors working with us. We are also supporting, as well as dialoguing with medical doctors in Nigeria; we provide them with consultation based on our own experience. Importantly, we also provided palliatives to people, especially the vulnerable and underprivileged in communities in Lagos with the sum of N5, 000 to 50 households. We hope this support would be effective.
Make No Mistake, Coronavirus Will Be With Us For A Long Time, Says WHO DG
The head of the World Health Organisation (WHO), Tedros Adhanom Ghebreyesus, said on Wednesday that he hoped the Trump administration would reconsider its suspension of funding, but that his main focus was on ending the pandemic and saving lives, Reuters reported… Read full story
COVID-19: Governors Adopt Two-Week Inter-State Lockdown • Call for decentralisation of COVID-19 response
The 36 state governors, on Wednesday, unanimously resolved to adopt a two-week inter-state lockdown as part of measures aimed at containing the spread of coronavirus across the country… Read full story
Covid-19: Chinese Treatment Of Africans
IN the wake of the deadly Covid-19 pandemic experience, China has treated African residents within its borders like scum. The situation has been so bad that it is actually difficult to believe that its previous investments in the continent had wholesome intentions. China's inhuman and hostile disposition to Africans in China… Read full story
FG Bans Inter-State Movement Of COVID-19 Patients
The Federal Government has banned inter-state movement of Coronavirus (COVID-19) patients in the country. Dr Osagie Ehanire, Minister of Health, said this on Wednesday in Abuja, at the Presidential Taskforce (PTF), briefing on COVID-19… Read full story
COVID-19: Fake News Purveyors To Be Sanctioned, Says Lai Mohammed
The Minister of Information, Culture and Tourism, Alhaji Lai Mohammed has said that purveyors of fake news would be apprehended and sanctioned. Mohammed said while fielding questions from newsmen at the Presidential Taskforce on COVID-19 daily press briefing on Wednesday in Abuja… Read full story
ASUU Kicks Against Submission Of BVN As Condition For Payment Of Withheld Two-Month Salaries
The Academic Staff Union of Universities (ASUU) says it has rejected the submission of Bank Verification Number (BVN) as a condition for payment of February and March withheld salaries of lectures… Read full story
FG Replies ASUU: No BVN, No Payment Of Withheld Salaries
The Federal Government on Wednesday insisted that members of the Academic Union of Universities (ASUU) will have to make their Banks Verification Number (BVN) available for the various vice-chancellors to validate before they would be paid their withheld February and March salaries… Read full story
World Bank Predicts Decline In Remittances To Nigeria, Other LIMCs
The World Bank has said that as a consequence of the ravaging COVID-19 pandemic, remittances to Nigeria and other low and middle-income countries (LMICs) are projected to fall by 19.7 per cent to $445 billion… Read full story
High Number Of Coronavirus Cases Evidence Of Community Spread, Says Presidential Task Force
The Presidential Task Force on the novel Coronavirus (COVID-19) pandemic has given reasons the number of infections in the country has shot up… Read full story
COVID-19: Kano Relaxes Lockdown For One Day
Kano State government has relaxed the ongoing lockdown in the state for one day, 6 am-12 pm tomorrow (Thursday). This is to allow residents to buy foodstuffs and other items for preparation of the forthcoming… Read full story
COVID-19: No Definite Time For Evacuation Of Nigerians In US, UK, China, Others, Says Foreign Affairs Minister
Nigerians resident in foreign countries but anxious to return home may have to wait for a longer time. Foreign Affairs Minister, Geoffrey Onyeama, made the disclosure on Wednesday at the daily briefing of the Presidential Task Force to combat the coronavirus pandemic… Read full story
COVID-19, Malaria Double Danger This Rainy Season
The current COVID-19 pandemic has taken the spotlight in the news. Despite the seriousness of the situation, the rainy season is here and so is malaria. In 2018, malaria killed 405,000 people, most of them in Africa… Read full story