COVID-19 hype killing Nigerian economy, Senate raises the alarm
• Says poverty may instigate violence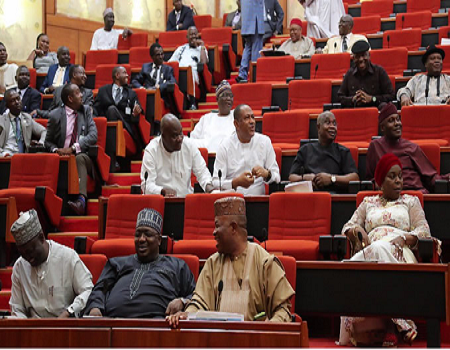 Senator representing Kogi West and Chairman Senate Committee on Aviation, Smart Adeyemi, has cautioned against the extortion of Nigerians and killing of the Nigerian economy in the name of instilling precautionary measures to fight the COVID-19 pandemic.
Senator Adeyemi's declaration was on the heels of what he viewed as exorbitant fees Nigerians were being asked to pay to get certified for foreign trips.
Speaking at the joint Aviation and Health Committees session with stakeholders in the Aviation and Health Sectors on safety measures in the wake of commencement of international and domestic flights in the country, Senator Adeyemi specifically asked why Nigerians were being compelled to pay the sum of N75,000 for laboratory test to certify them for foreign trips.
He also expressed disaffection with the choice of private laboratories by the Presidential Task Force (PTF) on COVID-19 for such tests.
He noted that such strict guidelines were a drain on the purse of individual Nigerians and ultimately, the economy.
He warned stakeholders to refrain from accepting in the absolute, measures being adopted to fight the pandemic in Europe, America and China.
He said: "There is something in us as Africans that is not in them in Europe and America, which made COVID-19 not to be disastrous here as it was there.
"In light of this, measures that are detrimental to the livelihood and well-being of Nigerians should be avoided, so as not to kill the nation's economy."
He insisted on the downward review of the fee for a laboratory test.
"The amount is too high, it should be brought down and public health institutions laboratories should be equipped to carry out the tests.
"People are not finding things easy outside there as a result of way and manner COVID-19 pandemic is being fought in the country and as representatives of the people, feelers reaching us, indicate revolt against the government in December if drastic actions are not taken between now and then, to make things easier."
Speaking in the same vein, Senator representing Ekiti South, Biodun Olujimi asked the Minister of Health, Dr Osagie Ehanire and National Coordinator, Presidential Task Force on COVID-19, Dr Sani Aliyu to explain to the joint committee the continued use of face mask, as he noted that many Nigerians have since shelved its usage.
"When I visited some communities in Ekiti State last week, nobody puts on the face masks and in fact, some of them told me who had it on, not to bring COVID-19 to them.
"These are clear signs that methods and approaches being used to fight the pandemic should be re-assessed and changed since the pandemic for reasons yet to be scientifically established, is far less potent here than it is in Europe, America etc."
Dr Sani Aliyu, in his response, identified poverty, demography and aggressive nature of African countries as likely factors supplanting the pandemic.
He submitted that poverty as a factor for the success story against COVID-19 in Nigeria was not scientific and controversial but noted that "it is generally believed that the pandemic gets weakened in crowded and stuffy areas.
"Demographically, only 3% of Nigerians are above the age of 65 as against 20%, 18% etc. of such populations in European and American countries where death casualties were high.
"Aggressive nature of African countries against the pandemic also helped tremendously in containing the spread of the pandemic in Nigeria and many of the African countries."
The joint committee, however, ordered the Minister and the PTF National Coordinator, to enlarge the scope of laboratory testing for the pandemic by including the public ones and ensure a reduction in the cost of testing.
YOU SHOULD NOT MISS THESE HEADLINES FROM NIGERIAN TRIBUNE
PDP Hails Fresh US Visa Ban On Nigerian Election Riggers
The Peoples Democratic Party (PDP) has commended the United States government over its fresh imposition of Visa ban on those undermining Nigeria's democracy and the electoral process.
I Never Asked Military To Return Seized Weapons ― Ortom
Benue State Governor, Samuel Ortom has said that he never asked the military to return the weapons recovered from the repentant youths.
Nigerian Law School Admits 1,785 Candidates To Bar
A total of 1,785 candidates were on Tuesday called to the Nigerian Bar, having passed the January 2020 Bar final examinations conducted by the Nigerian Law School under the supervision of the Council of Legal Education.
Imported Poultry Foods Now Infected With COVID-19 ― Customs
The Nigeria Customs Service (NCS) has put its officers stationed at all border points, airports and seaports on red alert, warning them to be extra vigilant over the importation of poultry products because some have been found to contain Covid-19.
JUST IN: Emir Of Biu, Umar Mustapha Is Dead
The Emir of Biu in Borno State, Mai Umar Mustapha Aliyu is dead. He died on Monday night at the Federal Medical Center Gombe after a brief illness.
Osinbajo Departs Abuja For ECOWAS Extraordinary Summit In Accra
Vice President Yemi Osinbajo will depart Abuja Tuesday for Accra, Ghana to attend an Extraordinary Summit of the Economic Community of West African States (ECOWAS) on the situation in Mali.
Edo: INEC Deploys Five Resident Electoral Commissioners
Ahead of Saturday's governorship election in Edo State, the Independent National Electoral Commission (INEC) has finally deployed five Residents Electoral Commissioners to the state to complement their counterpart, Mr Johnson Alalibo. | killing of Nigerian economy | killing of Nigerian economy | killing of Nigerian economy |