COVID-19: Hope rises as Pfizer vaccine proves 90% effective Buhari calls for equitable distribution
• We have a long way to go — UK PM • Vaccine news encouraging, but COVID-19 not tired of us —WHO• EU to procure 300 million doses, UK, 40 million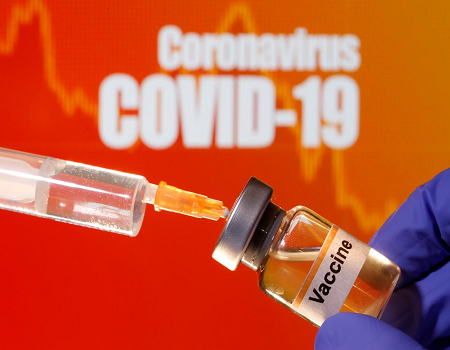 THE long wait for an acceptable vaccine for COVID-19 may soon be over as a vaccine jointly developed by multinational pharmaceutical corpora- tion, Pfizer and German bio- technology company, BioN- Tech, has been declared 90 per cent effective in dealing with the virus.
This came as the first set of results of Phase 3 clinical trial of the coronavirus vac- cine, on Monday, provided initial evidence of the vac- cine's ability to prevent the virus.
The trial assessed how well the vaccine works in preventing humans from becoming infected.
Pfizer and BioNTech's vaccine BNT162b2 began Phase 3, which is final stage of its clinical trial in late July and has enrolled 43,538 participants to date, 90 per cent of whom had received a second dose as of November 8.
Pfizer and BioNTech dis- closed that they looked at total of 94 cases of cor- onavirus that occurred among participants after they had received two shots of either the vaccine or the placebo and discovered that the vaccine was more than 90 per cent effective at seven days after the second dose.
According to The guard- ian UK, the vaccine is based on genetic material called mrNA that enables the pro- duction of the "spike proteins" that sit on the outside of the coronavirus.
The vaccine introduces this mrNA to the human body, triggering human cells to produce the spike protein and, the body, in response to the proteins, produces antibodies and other immune pathways that guard against infection.
The companies said they expected to supply up to 50 million vaccine doses glob- ally in 2020 and up to 1.3 billion in 2021.
Coming at a time when countries are witnessing a second wave of the virus, the news of the vaccine jointly developed by Pfizer and BioTech was greeted with applause, though mixed with calls for caution.
President of the United States, Donald Trump, de- scribed the progress as great news, while president-elect of the the United States, Joe Biden, remarked that the vaccine news gave hope.
The European Union (EU) said it would be signing a contract with Pfizer for 300 million doses of the vaccine while spokesperson for UK Prime Minister, Boris Johnson, said Britain had pro- cured 40 million doses of the vaccine, with 10 million to be available before the end of the year.
european stock markets and oil prices jumped on the announcement, just as Pfizer stocks soared 17 per cent prior to Wall Street trading opening after news of the vaccine progress.
While the world is excited at the news, experts called for caution, noting that vaccine must be approved by some licensing authorities.
Pfizer has said that it plans to apply to the US Food and Drug Administration (FDA) for emergency approval as soon as safety data allows, possibly during the third week of November.
On the need for caution, the EU, according to AFP, said it was still reviewing safety of Pfizer and BionNTech COViD-19 vaccine and stuck to its 2021 approval, availability forecast.
Though the World Health Organisation (WHO) chief, Tedros Adhanom ghebreyesus, hailed the news as encouraging, he warned that humans must keep fighting the virus without relenting.
ALSO READ: ASUU strike: FG appeals to ASUU to suspend strike
Speaking to WHO main annual assembly, which re- sumed Monday after being cut short in May, he urged the people to follow science and resist the urge to turn a blind eye to the virus.
ghebreyesus said, "We might be tired of COVID-19. Butitisnottiredofus.It preys on those in weaker health, but it preys on other weaknesses too: inequality, division, denial, wishful thinking and willful igno- rance.
"We cannot negotiate with it, nor close our eyes and hope it goes away. it pays no heed to political rhetoric or conspiracy the- ories. Our only hope is sci- ence, solutions and solidar- ity."
The message on the need for caution was also echoed by UK Prime Minister, Johnson, who, according to iTV News, noted that there was still a long way to go regarding a COViD-19 vaccine.
He urged the people to continue with adherence to basic COViD-19 protocols.
"I just don't want to let people run away with the idea that this development today is necessarily a home run, a slam dunk, a shot
to the back of the net. We have a long way to go. We cannot let our enthusiasm tonight run away with us," Johnson said.
experts to include senior research fellow in global health at the University of Southampton, Michael Head, speaking with AFP, called it an "excellent result for a first generation vaccine."
Peter Horby, professor of emerging infectious diseases and global health in the Nuffield Department of Medicine, University of Oxford, said Pfizer's announcement "feels like a watershed moment" in the pandemic.
Eleanor Riley, professor of immunology and infectious disease at the University of Edinburgh, said Monday's results, for example, did not disclose the ages of participants.
"If a vaccine is to reduce severe disease and death, and thus enable the pop- ulation at large to return to their normal day-to-day lives, it will need to be ef- fective in older and elderly members of our society," she said.
The WHO figures on Mon- day showed that the num- ber of confirmed COVID-19 cases worldwide has surpassed 50 million.
A WHO dashboard showed that globally, as of 10:45 a.m CET (0945 GMT) on Monday, a total of 50,030,121 confirmed cases of COVID-19, including 1,252,072 deaths, had been reported to the United Nations (UN) health agency, the News Agency of Nigeria (NAN) reports.
Buhari calls for equitable distribution
Following the announcement by Pfizer, President Muhammadu Buhari has welcomed the news and called for its equitable dis- tribution
The president described the development as a major milestone in medical ad- vance but warned that the world must unite in facili- tating the equitable access and distribution of the vac- cines to protect people in all countries.
A statement issued by presidential spokesman, garba Shehu, in Abuja, reiterated Buhari's earlier call that "only a people's vac- cine with equality and solidarity at its core can protect all of humanity and get our societies safely running again. A bold international agreement cannot wait."