COVID-19: FG commences disbursement of N20,000 cash transfer to over 1.2m poor citizens
• Targets additional 1m households in 2020
Federal Government, on Wednesday, flagged-off the disbursement of N20,000 conditional cash transfer (CCT) to over 1.2 million across 34 States of the Federation and Federal Capital Territory (FCT).
The Minister of Humanitarian Affairs, Disaster Management and Social Development, Hajiya Sadiya Umar Farouq, who presented the fund to some of the beneficiaries at the Kwali Area Council of FCT, expressed satisfaction at the successful implementation of the scheme which started in 2016.
Mrs Farouq said the N20,000 for the four months CCT payment was in line with the directives by President Muhammadu Buhari, aimed at cushioning the effect of the lockdown of Abuja, Lagos and Ogun States on the poor and vulnerable households.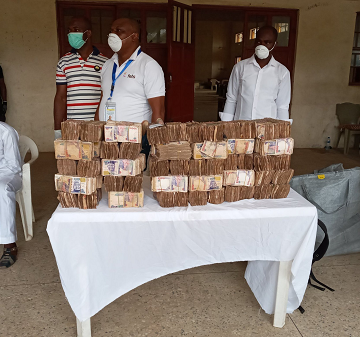 "This initiative has been ongoing for the past 5 years. It's an exercise geared towards supporting the poor and vulnerable households of our society and we give them monthly stipend of N5,000 and now that we have the restriction, Mr President has directed that we give them 2 months advance payment.
"So we are here today to carry out that directive of paying the 2 months stipend."
ALSO READ: COVID-19: Three suspected cases test negative in Delta
According to her, over 1 million people across the country have been enlisted to benefit from the scheme, adding that over 5,000 people are to benefit from the scheme in Kwali Area Council alone.
While responding to questions on the mode of selection of the beneficiaries, the Minister explained that: "it is a very long process, many people are involved, community leaders, religious leaders and the Council chairmen and his council members. They all come together and identify the poorest of poor and vulnerable households in that particular community."
While reacting to allegations that the funds were distributed to APC members only, Mrs Farouq, who dismissed the allegation, argued that, "that is very untrue. You are free to ask the beneficiaries and they will tell you the method adopted in identifying the beneficiaries."
In her remarks, CCT National Coordinator, Mrs. Temitope Sinkayedin, unveiled plans to add 1 million households to the existing 1.2 million households already registered under the programme in 2020.
"It has improved a lot of their livelihood, it has improved the human capital, that is they are now able to send their children to school, they are now able to feed and have better diet, not just starch alone, they are now able to have balanced diet; they are also able to attend clinic.
"And in some communities, they even dug well where water is their problem, some communities they've renovated their health centres, and we even have some extreme cases wherein some communities they out up a simple classroom for their children because their children used to go to the neighbouring communities to go to school.
"And it will interest you that this programme is not just about the cash transfer alone. It is a cash-plus programme, we give them money we also train them on how to be self-sustaining; they take care of their hygiene, they take care of their businesses; if you don't have a business, how you can start a business; and then we also teach them on nutrition, environmental sanitation. So it's a full package for the household. That is why the programme is known as household uplifting programme," she said.
On the rationale behind the payment of the 2-month stipend, she explained that most of the poor live in places where there are no banking infrastructure.
"Where the poor reside, there are no banking infrastructure, so you cannot pay them through the bank, we pay through mobile banking operators as you can see, it is through transferred electronic payment as you have just witnessed. And then we need to pay these mobile money operators so the more the payment the more we pay. So that is why we now put two months together so they pay every two months. We started paying this money since 2016 with 8 states.
"The questions why 8 states? They are the ones that are ready. States came on board at different times because there are conditions that the states must meet before we begin to do the transfer.
"The state must establish its office because it is the state office that is implementing, we are just direction, guidance and supervision. When there's no state office we cannot do the transfer. It is the state office and the Local Government office that move from village to village. You know how many villages in a local government not to talk of the country.
"Therefore, the structure is that we have federal structure, we have state, we have local government structure. The local government structure is the ones who move from village to village to do the training, to monitor and mentor them so that they can perform well.
"We have 34 States on board now. Today, each beneficiary is getting four months and that is N20,000. For this ward, the number of beneficiaries is about 190."