Court to EFCC: You can't compel Kalu to embrace your choice of defence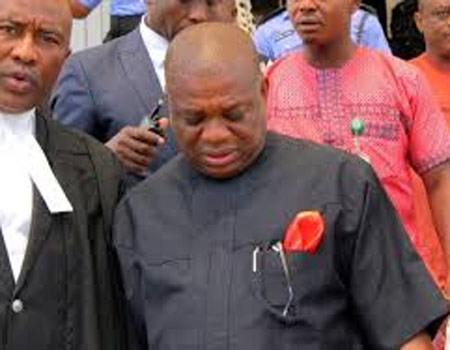 THE Economic and Financial Crimes Commission (EFCC), on Friday lost out in its bid to compel a former Abia State governor, Dr Orji Uzor Kalu, to enter into the witness box and explain his role in an alleged fraud charge initiated against him and two others at a Federal High Court in Lagos.
Kalu's lawyer, Chief Awa Kalu (SAN), had, at the resumed hearing of the matter on Friday, indicated the readiness of his client to open his defence from outside the box contrary to the EFCC's insistence that Kalu would be cross-examined, while giving evidence-in-chief.
This, the Senior Advocate said that the former governor would not be opened to cross-examination by the prosecution in line with the dictates of Section 358 (1) (a) of the Administration of Criminal Justice Act (ACJA) 2015.
ALSO READ: I'm not worried I don't have NYSC certificate — Shittu
He said his request was predicated on the fundamental principle of criminal law for all defendants anchoring on presumption of innocence.
"Section 358 (1) (a) is not a donation from the court to the first defendant but a statutory provision. A man who can refuse to talk can also refuse to be cross-examined.
"Once a defendant charged with a criminal offence opts to testify from where he is, he is only exercising his rights that flow from the Constitution. The first defendant carries no burden but it is the prosecution that is carrying the burden of proof beyond reasonable doubt," he said.
Other defence lawyers, Chief Solo Akuma (SAN) and Mr. K. C. Nwofor (SAN) were in support of the position.  However, in his opposition, EFCC's lawyer, Rotimi Jacobs (SAN) said the ACJA does not regulate evidence in court.
He further argued that since the first defendant (Kalu) was represented by a legal practitioner in court, he cannot take advantage of the options available for him in Section 358 of ACJA.
"The examination of the witness must be in accordance with the Evidence Act because it regulates how proceedings should go on in court. If a witness is not cross-examined, his evidence cannot be used in court," he said.
However, in a Bench ruling, Justice Idris held that the first defendant is absolutely at liberty to chose from any of the options available under Section 358 of ACJA.  Justice Idris further disclosed that the options in the Section are available to the first defendant whether or not he has legal representation.  After citing the provisions of Section 358 of ACJA, the judge said: "In the circumstances of this case, where a defendant chooses the options under Section 358 (a) of ACJA as the first defendant has done in this case, the first defendant is not given evidence.
"Making a statement is different from giving evidence. A person who gives evidence from the witness box after been sworn-in can also make a statement from wherever he stands. Both options are available to the defendant in any criminal trial.  If the first defendant has decided to make a statement only, then he will not be cross-examined. He will only be cross-examined where he chooses to give evidence."