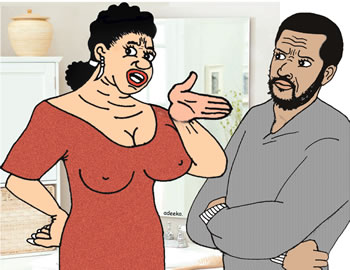 An Agege Customary Court in Lagos on Thursday dissolved a 10-year-old loveless marriage between a 79-year-old prophet, Moses Bolaji and his wife, Deborah.
Bolaji, who resides in Ota area of Ogun, had on July 4 approached the court for the dissolution of the marriage over the troublesome nature of his wife.
The President of the court, Mr Phillips Williams, who dissolved the union, said the marriage had broken down irreconcilably.
"According to the evidence given by both parties, the court observed that the marriage was prompted by the gains you could derive from one another.
"Therefore, without prejudice but in the interest of peace, fairness, justice and impartiality that the court resolves to grant the request of the petitioner," he said.
Earlier, Moses had told the court that he decided to marry his wife when he found out that she was a widow with five children.
"I was undergoing a training at Assembly of Yahweh Church, Idimu, when I notice that she was living in the church as a prophetess with her children.
"So, I decided to marry her out of pity so that I can take proper care of her and her children. I believed we could work together," he said.
Bolaji said his wife's attitude changed when they started living together as she became saucy and uncontrollable.
"She quarrels with my church members, she was always having issues with my children, believing that l am the one encouraging them to be rude to her.
"My wife kept teasing and tormenting me, she is too troublesome, always fighting me and the church members.
"My prestige as a church leader is at stake and it has got to the level that l can no longer tolerate her arrogance.
"l seek dissolution of this marriage and for the court to restrain the respondent from causing further damage to my church and person."
The respondent, 45, a nurse at a traditional hospital, told the court that she met her husband in 2007 and started living with him 2009.
Deborah said her family was against the marriage because of the age differential, adding "I married him out of pity because his family and children had abandoned him.
"The petitioner is ungrateful, he nearly lost his life during a strange sickness but l stood by him and took very good care of him."
She said her husband did not inform her about his five wives and 16 children at the time they met and he had also refused to set up a business for her as promised.
"I am also fed up and I am no longer interested in this deceitful union."