A High Court of Justice sitting in Jos, Plateau State, has granted an Order compelling the Acting National Chairman of APC, Chief Victor Giadom, to proceed with the NEC meeting fixed for Thursday, June 25th, 2020.
The Order was made upon the Application of the Chairman of Plataeu APC, Mr Latep Dabang, who is also a member of NEC.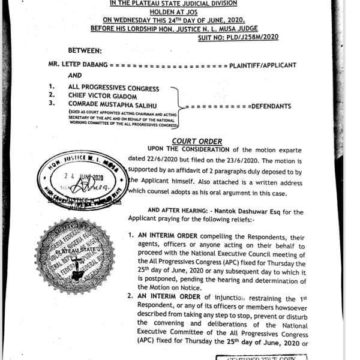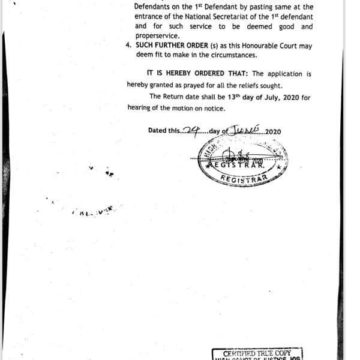 He complained that the provision of the APC Constitution regarding the convening of a quarterly NEC meeting has been serially abused and ignored by the present NWC, leading to a litany of illegalities by the NWC.
It would be recalled that President Muhammadu Buhari gave his nod to the convening of an emergency NEC meeting to save the party from the multiple crises bedevilling it.
Already letters have been sent out to all the Governors and members of the National Assembly who are NEC members.
Whilst the Governors and lawmakers would be seated at the Council Chambers with Mr President, others would join by virtual means.
Already, the visitors' list at the Presidential Villa contains the names of NEC members expected to arrive tomorrow, confirming the clear endorsement of the meeting by President Muhammadu Buhari.
"With this order, all is now set for a full reconciliatory meeting of the APC tomorrow led by the President himself.
"The President has received very convincing advice on the position of the law as far as the situation in the party is concerned and has determined that the law is on the side of Victor Giadom as Acting National Chairman.
"Because he will always act in accordance with the law, the President will be attending the virtual meeting Giadom called for tomorrow afternoon.
"We urge the media to stop promoting manufactured controversies and to not give any further room for mischievous interpretations of the law on this matter.
"In addition to the President, the Giadom meeting will, hopefully, be attended by our Governors and the leaders of the National Assembly." (timenewsng)
YOU SHOULD NOT MISS THESE HEADLINES FROM NIGERIAN TRIBUNE
No NEC Meeting Will Hold On Thursday ― Ajimobi-Led APC Faction
Senator Abiola Ajimobi-led faction of the All Progressives Congress (APC) on Tuesday dismissed reports that a meeting of the APC National Executive Committee (NEC) will hold at the Presidential Villa on Thursday… Read Full Story
Edo Poll: INEC Worried Over Conflicting Court Orders, Litigations
The Independent National Electoral Commission (INEC) has expressed worry at the spate of litigations, conflicting court orders ahead of the Edo State governorship poll, warning that such was harmful to the smooth conduct of primaries and the September 19 poll at large… Read Full Story
Ghanaian President Apologises Over Demolition Of Nigeria's High Commission Building
President Nana Akufo-Addo of Ghana on Tuesday spoke with President Muhammadu Buhari, expressing his sincere apology for the demolition of a building on the premises of Nigerian High Commission in Accra… Read Full Story
APC, PDP Scramble For Yoruba Land
THERE is a gradual buildup to replicatiing the 2003 scenario that existed in the South-West. It will be recalled that the ruling Peoples Democratic Party (PDP) from May 29, 1999, had mustered all resources towards routing the Alliance for Democracy (AD), the main opposition party from Yoruba land. Leading the PDP forces … Read Full Story
If Igbo Don't Get Presidency In 2023… —Ezeife
I want to restate my position clearly. Nobody will just dash anybody the presidency. As it is, there is a rotation for north/south. So far, the north has dominated the presidency. But it has come to the south too. The west from the south has produced president. The South-South from the south has produced president… Read Full Story
---
---