Corps member sensitises Anambra pupils on evils of corruption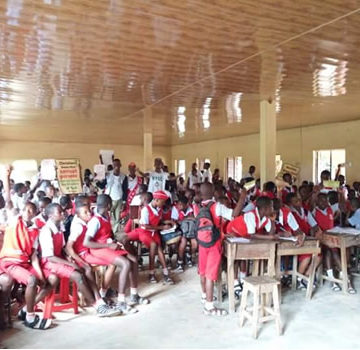 As part of efforts geared to stem the growth of corruption in Nigeria, a Batch 'B' corps member serving in Anambra State, Adebowale Ahmad has sensitised pupils of Community High School, Amorka of the evils of corruption.
Ahmad, sensitising the pupils as his community development effort, said there is the urgent need to tackle corruption from the grassroots, hence, it will rob the country of its desired future.
He said further that the anti-graft war cannot be left to the hands of the government alone, adding that there is so much at stake and everybody should rise up to duty and save the nation from the cankerworm eating up our future.
He said that if not swiftly curtailed, "it will truncate the bright future that we all hope for and that of the coming generations."
Speaking to Tribune Online on the sidelines of the programmes, Ahmad said: "To the glory of God, the need to fight against corruption and promote integrity hits another gear as it was well received among serving NYSC members in Ihiala and the pupils of Community High School, Amorka, Anambra State.
ALSO READ: Ondo denies planned Fulani vigilante over violent herdsmen
"I was recently trained at Lux Terra Leadership Foundation (with the support of MacArthur Foundation) on the skills needed to fight corruption and promote integrity in Nigeria.
"During the course of the training, I realised that the fight against corruption can't be left to only our leaders or the government because they might not be there when the future comes. That we all need to do something about it no matter how little.
"Most importantly, if we as Nigerian youths do not stand up to the fight then who will? We just need to be courageous, committed, patriotic, prayerful and selfless among other values.
"It was in line with this that I pledged to contribute my own quota by sensitising Nigerians, to the best of my ability, on the need to shun corruption and go against corrupt practices."
In attendance at the sensitisation program were teachers, students and corps members who took a pledge to uphold the tenets of integrity and accountability, and to stand against corruption wherever they find themselves.