Coronavirus: Senate decries decrepit facilities at  isolation centre in Abuja
As NCDC borrows money to buy beds, foams, air conditioners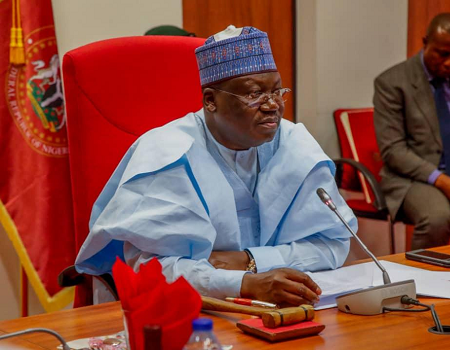 Senate President, Ahmad Lawan, on Wednesday, decried the poor facilities at the temporary isolation centre for victims of Coronavirus (COVID-19) in Abuja.
Lawan expressed his disaffection when he led his colleagues in the Red Chamber on an  on-the-spot-assessment of the
facility located at the University of Abuja Teaching Hospital, Gwagwalada, Abuja.
Officials of the
Nigeria Centre for Disease Control
(NCDC) made a startling revelation that the Federal Government was yet to release funds to it from the N620million earmarked to fight the deadly virus.
He assured them that he would use his good offices to ensure the expeditious release of the fund while he also appealed to the NCDC to replicate the building of its permanent isolation centre in the other five geo-political zones of the country.
He said: "First of all, let me say that both the representatives of the Federal Ministry of Health, the Nigeria Centre for Disease Control, the management of the University of Abuja Teaching Hospital are in high spirits looking determined to discharge their mandate and obligations.
ALSO READ: Ibadan Poly registry unit trains staff on stress management, productivity 
"But from our inspection here, the temporary isolation centre is really not in good shape. It doesn't look ready to receive any patient and I believe that this is something we have to fix between today and tomorrow.
"We are in an emergency even if we don't have people who are affected we shouldn't just rest on our oars.
"We have to do everything and anything possible to fix that temporary isolation centre to be prepared and ready to receive anyone who falls sick in this respect.
"We are indeed sad that the N620million that was supposed to be released to the NCDC for fixing of everything here not a kobo has been released.
"We are going to get across to the Minister of Finance and all the other authorities who have anything to do with this to release this money between today and tomorrow latest.
"We are in a situation that nobody should be found wanting. Everybody should be at the top of his game.
"There is no way that Nigeria, the largest economy in Africa with the population of 200 million, yet in the Federal Capital and the surrounding states of the North Central, you don't have one room that you can call an isolation centre where anyone who unfortunately falls into this crisis will be taken to.