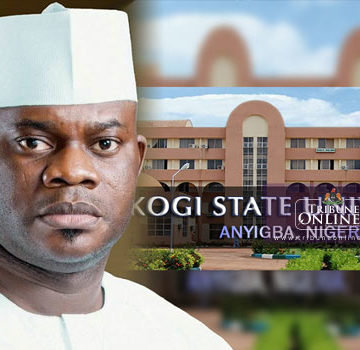 THE Kogi state governor, Alhaji Yahaya Bello, on Monday said the All Progressives Congress (APC) has survived a major political scare with the successful conduct of its national convention.
He also lauded the party for proving bookmakers wrong with a successful national convention to elect new national executives to pilot the affairs of the state for the next four years.
The governor in a statement through his Director General of Media and Publicity, Kingsley Fanwo, said the party had survived a "major political scare" by going through a "non-controversial, credible and fair national convention".
According to him, the party had proven its ability to strengthen "internal democracy and institutional integrity", saying political parties in Nigeria need to continue to give its members a "loud voice" in running their affairs.
"We have done it again. Our former Chairman went through his tenure unscathed. It is a demonstration of our capacity as a party to manage different interests within the larger interest of promoting the ideology of the party which was built on justice, fairness and a patriotic decision to rescue our nation from retrogression.
"Chief John Odigie-Oyegun led the party through testing periods but his calm and wisdom helped us to pull through. APC will be eternally grateful to such a selfless patriot.
"I also congratulate all those who worked with Chief Oyegun in the NWC. Their selflessness made our party stronger.
"To my brother and the new Chairman of our party, Comrade Adams Oshiomhole, I say a big congratulations to him and all the newly elected party executives.
ALSO READ: Why I stayed away from APC Convention ―Senator Kwankwaso
"To continue to record a resounding victory as a party, we have to leave the politics of party leadership at Eagle Square and support all the elected officers to succeed. The delegates have spoken and we should accept the verdict with a democratic heart.
"The successful transition from one NWC of the party to another is a huge success that has seen us set a pace in party management and administration.
"We made no mistake about our determination to ensure we go into the 2019 polls as a united family. Now, we are set to compete and triumph in 2019.
"President Muhammadu Buhari has helped the party attain greatness with his personality, discipline, fairness and accommodation of people with special abilities in the Executive of the party from the Wards to the national level. As a party, we have proven that power is in the hands of the people".
ALSO READ: PDP carpets Bello over non-payment of salary
Bello expressed confidence in the ability of the Oshiomhole-led NWC to continue to set the pace for other parties, urging the new leaders of the party at all levels to embrace reconciliation and aggressive membership drive to make the party unbeatable in 2019.