Consumers are now aware there's an agency to seek redress —Olugbode
The General Manager, Lagos State Consumer Protection Agency (LASCOPA), Mrs. Kemi Olugbode, in this interview by Akin Adewakun, presents the agency's scorecard, since inception in the first quarter of 2018; insisting that consumers are gradually becoming aware of their rights and are coming forward to the agency to seek redress. Excerpts: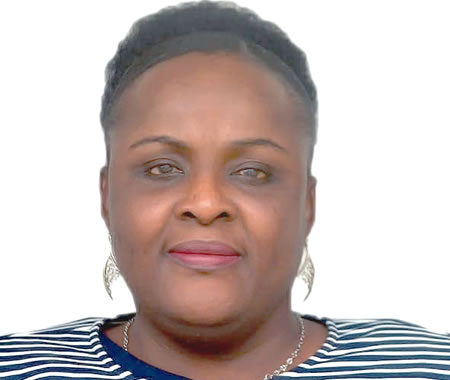 A recap for the outgone year
The year had been eventful, we've undertaken so many projects.  In the first half of the year, we commenced a Food and Vegetable project, a special project being handled by the SARD Department, which involves the handling, storage and packaging of food vegetable in different markets,  in Lagos, and all other issues relating to this. We are doing that with SON, market development board, Ministry of Wealth Creation and then our Scientific Investigation Research Department along with the Consumer Education Department and Monitoring  and Enforcement and other key people. The Ministry of Agriculture also joined us.  What we've done with that project was to visit all the key markets in Lagos where fruits are being circulated to different parts of Lagos.  We went to  Mile 12, Ketu, Kosofe, Ile Epo and all others. We are also  in partnership with the local governments., and they have been very helpful. We have  also taken it further by involving FIIRO. They want to help us with the sampling of the fruits. So they've come up with the financial implication of conducting the sampling and laboratory test. So once we get the go-ahead for the release of necessary funds, the sampling shall be done, and further action would continue on the project, in regards to formulation of policies.
Why we banned sales of powdered milk in the open market
We discovered  some people were selling  unbranded powdered milk in the open market.  If you go to Daleko, you will see people sitting by the roadside, selling unbranded powdered milk. The milk is supposed to be used for industrial purpose.  We did a video- recording  of the traders.  What they were doing was to measure the milk with cups and send them to, usually, caterers. After our investigation, we then invited all the milk manufacturers and importers and people who package them, in the state, here and told them our concerns. Truly they were willing to cooperate. They saw the project as a very great move by Lagos State and the agency. They gave us their word and said they were ready to partner with us and do everything that needed to be done in order to put the act to an end. We had a follow up meeting. A committee was set up with the key people and we agreed that we had to relate with the market executives, through the local government. We then had a meeting, recently, a follow up meeting where market executives were present and representatives of milk manufacturers  were also present. We have made some decisions. So what we are going to do is to first of all, engage the traders to let them know that milk can not be sold in open markets. Milk is very susceptible to bacteria, you can not expose milk  and feel it will be wholesome, because it attracts all sorts of bacteria from the air. So what we intend to do is to give them training, give them education, let them know the risk involved in the sales of powdered milk in the open market. After we must have done that, then a task force would be set up, in partnership  with  the market executives, where people who continue with the act will be dealt with and prosecuted, according to the provisions of the law. We also advise the milk manufacturers to go for smaller packages instead of the 25 kg bags that they do for industrial use, and we advise them to write on the package boldly that the milk is not  for consumption, but for industrial use, that is  for those who manufacture yoghurt and the likes.
How we handled the numerous  power sector complaints in 2019
Initially we used to  have meetings with the Discos and the consumers, every other month. But we realized that we were finding it difficult to track the complaints, because of the volumes. So what we decided to do was to make it a weekly meeting and reduce the number of complaints that we handled. With that we were able to resolve the matters faster and we were also able to track them. It reduces stress on the Discos, because before, we used to do 32, 34 complaints with them. We realised  that because of their manpower, I'm not sure they have enough manpower to resolve the issues easily. But with the reduced number, it's easier for them to work on complaints and get them resolved.
Our advocacy programme
We've attended several fairs and exhibitions. We were at the international trade fair in the course of the year.  The Institute of Food Science  Technology were invited to be part of the conference we attended, and we had an exhibition stand. We were at MSMEs Fair to give them information about what is required of them as enterprises; that is labeling, information, packaging and all that. We were at the industrialization fair too. That one was organized in the course of the year. We continued with our sensitization programme, we've been to different parts of Lagos, and as a matter of fact, in December we embarked on an aggressive  consumer education. What we decided to do is to have a campaign, called the local government campaign, whereby we do two local governments in each Division. So we started with Ikeja.  So we make sure we touch two local governments and LCDA, we give then consumer education. We teach them their rights. And the law that sets up the agency says we should have offices in all the local governments and LCDAs, so we've commenced action on that, too.  We are starting with the division strategy too, to do that. We've improved our publicity, our  jingles are now being heard all over, and we continue to use the social media platforms, too. By and large, I thank God for where we are, and I  believe God that with time, we'll get to our destination. We believe with the pace at which we are working, we'll achieve our desire, particularly in view of the agenda of this administration, which is the THEME agenda.
Why we sealed some stores in 2019
In the course of the year,  we did some seal-ups. For instance, the shop that was sealed up recently had been visited  on two occasions when expired products were found there. And despite our warnings, the owner of the business,  continued. We now called her and she said we could do whatever we liked. So we just went straight to the Consumer Court and filed an action against the store. And the court said we should put them on notice. And,  despite being served court process, thrice,  the store still refused to honour the invitation. Subsequently the order was granted, and the store was sealed up by the court sheriffs. And also in the course of the year, our officers were attacked  at a supermarket and locked up. The manager of the store was very aggressive. We wanted to remove products that had expired from the store, and he resisted it, dragged the product from a lady and in the course of doing  that  broke her fingernail.  The Store Manager was picked up, together with some other staff and the matter taken to court.  There were other stores too that we visited twice, thrice, and discovered expired products were still being sold by those stores. We would give them compliance notice they would ignore, so we are prosecuting such people. We have some civil actions too. Some are contentious. We have one with a Disco, involving a woman of above 80 years, losing some household equipment due to high power voltage. And we invited the Disco, just for mediation, at least the woman is demanding  for the cost of replacement of those equipment, but the Disco refused to honour our invitation. So we are in court with them. We have others  in court, too. A few against  some insurance companies that refused to pay after the expiration of the insurance policy contract. We wrote to them. The complainants too had written several letters demanding for their claims, but they didn't honour their invitations. Interestingly, we had three cases against that particular insurance company. But the moment we served them with the court processes, they came to  court and said they wanted to settle our of court. And I said to myself, 'Why not do this before we got to the stage of spending tax payer's money to initiate the court action? We have a matter against  someone who sold a sound mixer, valued at about one million to a church in Gbagada. Instead of looking for solution, he said the person that was in charge of the sound mixer in church did not manage the thing well. So we are in court. So by and large, if I do a comparison of where we ended last year, and where we are now, I think we have doubled the number of complaints. As at the end of our activities,  in 2018, we were on 219 complaints, and carried over like 45, but at the end of the 2019,  we are close to 700, and we resolved over 500 of that number. Majority of the  pending cases are with the Discos. Then we have some new ones that would come up in 2020.  Invariably I can say categorically that people are now being aware of their rights. People, I mean consumers, in the state,  now know that they have an agency  where they can  seek redress and fight their cause. For instance, the financial implications of the refunds we've been able to get as at November  2019, is close to N25million, that is compensation and refunds; since inception. Interestingly, our service remains free. We still have a long way to go, though, looking at the population of Lagos.
How the new Consumer Court has helped us
It has really helped. Anytime we introduce ourselves to people, and tell them we have a dedicated court, where people who commit infractions can be prosecuted, they sit up. Nobody wants to be prosecuted.
Our expansion plans in 2020
We already have an approval  to set up offices in ten different locations within the state. So what we've done is to draw up a schedule. We've written to local government, asking for space, even if it's one room. Once they give us, we clean it and we begin to use. We already have the approvals. So once we get that done, we can also project in the new year to do more. By the end of 2020, we should be able to do within 15 and 20 different locations. So very soon, we begin to tell people where to meet us.