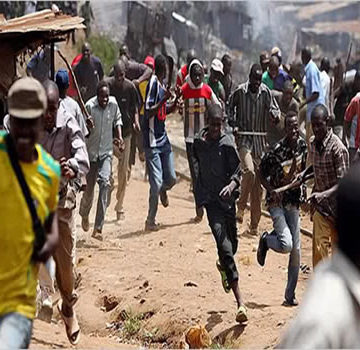 THE atmosphere of tension and pandemonium was reported among residents of Offa and Ijagbo towns in the Offa and Oyun local government areas of Kwara state on Wednesday as the people engaged in violence over land matters.
The Nigerian Tribune investigations gathered that the clash between landowners in Offa and Ijagbo communities later turned bloody as several people sustained injuries in the violence.
This is just as an unconfirmed report had it that one person was feared dead in the violent clash, which involved the use of local hunters from Ajase by the warring people.
It was also gathered that motorists plying the Ijagbo-Offa road turned back at Elejoka bridge while sporadic and heavy shootings by the two warring sides rented the air, just as shops and homes were hurriedly locked as residents fled in panic.
Reports also had it that schools and business activities were grounded while the exchange of gunshots lasted, as newly renovated Offa central hotel was vandalized with vehicles and motorcycles around.
Investigations gathered that the land tussle was between one Balogun family in Offa town and another family in the neighbouring Ijagbo town.
The police public relations officer (PPRO) of the Kwara state command, Ajayi Okasanmi, who confirmed the development, said that he was awaiting details of the situation from men and officers of the command drafted to the scene.
He, however, said that normalcy had returned to the scene with the deployment of policemen, Navy and Army officials.
Governor Abdulfatah Ahmed of Kwara state has warned that it will deal decisively with perpetrators of a communal clash between Offa in Offa Local government area and Ijagbo in Oyun Local government area of the state.
The governor, in a statement signed by his Chief Press Secretary, Abdulwahab Oba, expressed concern over the unwarranted and absolutely avoidable acts in the two communities.
ALSO READ: Kwara targets 404,703 children in measles vaccination campaign
He expressed concerns that some individuals could take laws into their hands despite various established platforms to seek redress and settle emerging communal matters.
The Governor directed security agencies in the state to arrest and bring perpetrators of the crises to justice, and restore law and order in the communities as, according to the governor, "the government will not allow any breach of peace, harmony and tranquillity under any guise in the state".
Governor Ahmed, who assured Kwarans that his administration would continue to prioritise the protection of lives and property for economic growth and overall development, said security agencies in the state are fully in charge of the situation.