Comedy got me what I couldn't get from dancing in years —Ogbolor
Some know him as Ogbolor, others by his real name — Michael Uba, his fans know him as James of the popular television series 'Jenifa's Diary'. Uba, an actor, comedian, On-Air Personality and motivational speaker, in this interview by FEMI OGUNTAYO, speaks on how he rose from grass to grace and his plans, moving forward.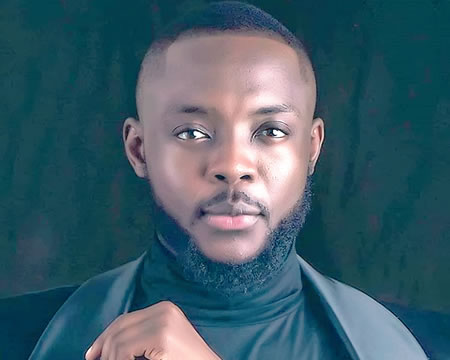 You came into limelight with Jenifa's Diary, how did it all start?
I really did not come into limelight with Jenifa's Diary, even though that was part of what shot me up there with more audience starting to recognise me. Before then, I had always been a comedian and an On-Air Personality and had already gained an audience before Jenifa's Diary. On how Jenifa's Diary all started, like I said, I am a radio and TV presenter, I have a producer who happens to be a writer for Jenifa's Diary and they needed someone to play that particular character. My producer knew I could do it well and prior to that time, myself, Emma Oh My God and another comedian called Larry Foreman had done, like, a remake of Davido's Aye, so the three of us back then made a video and it was everywhere; that was when social media became the thing.
The video was everywhere and that also aided the choice of me coming in for a close audition, so I showed up and Funke Akindele had had several auditions for people who could play this particular character but she just could not find someone who could play it the way she wanted it to and then I showed up. She was like, okay you are the one from my writer, let us see what you can do? Just in a few seconds on demonstration, she just said yes, you are the one we have been looking for and she closed the audition. So, yes, I believe it was my role to play, I killed it and the rest, they say, is history.
James in Jenifa's Diary as we all know is a crazy character, different completely from your person, when you are on air presenting. How do you balance both personalities?
Well,  I am an indoor person, who loves to chill at home, but then I realised that in order for me to use my talent, I will have to come out of that comfort zone, so Ogbolor was created to do the comedy, that is the crazy side of me and James became the character on Jenifa's Diary out of my Ogbolor character.
So, balancing them, I truly understand the difference between work and my true personality, so I try my best to divide between both. When I needed to become James I become James and because I believe myself to be a very good actor, one who can conveniently get into very challenging characters, I can switch between those and my true personalities easily. Sometimes it is not so easy getting into playing James, when I have been out of set for a long time, I am often required to take a few days before I get back on set to reprogramme my mindset into playing James. Because it comes with a lot of talking, a lot of mannerism, sometimes my voice is not so right and sometimes the mannerism is not so pronounced.
You act, you do comedy, you are an OAP and you also anchor events as MC. Which of these really pays your bills?
I would say being an MC cum comedy does. Sometimes what I am paid for probably two weeks being on set is just what I am paid being an MC at an event.
Does the effeminate character of James in Jenifa's Diary in any way reflect in who you really are?
The character does not really relate to who I am and it is totally different from who I am in person. As a comedian, I am allowed to bring my creativity into the script, so often times I can look at the script, look at the lines and add a few things to make it a little bit more funny and all that. Most of the time when people see me, they believe I should be that boy-girl character, they think I have that natural girly character.
What motivated your event 'No Limits with Ugbor and Friends'?
No Limits has been a passion I have had and like I said, I am also an inspirational speaker and this is a side of me that I want to take more seriously aside from being an entertainer. I found the need to always inspire, especially the younger ones to become better and big on self development. I think it is better if we who had gone ahead to carve a niche for ourselves in the industry to make use of some of our experiences to better the lives of the younger ones. I had always wanted to organise such an event but last year 2019, just seemed like the perfect time for me to organise it.
Can you share with us briefly the Michael Uba story which you shared with the attendees at an event?
I basically shared the story of how my journey was, from my days as a professional dancer to when I decided to go into comedy then from comedy to media and to go back into acting both on stage and on screen. So, it's been a journey actually. I have paid my dues, I have been mentored by different people and I have had days when I trekked all about Lagos.
I have had all those experiences as an up-and-coming act and comedian. It's been a hell of a journey because a number of people never believed in me simply because I was seen as someone who was just wasting his time. You know as an entertainer some of us were not called for a white-collar job which kept me at home for about five years doing nothing. But most importantly, I was gaining a lot of knowledge which helped me later on as a media personality. I attend a lot of seminars to improve on my knowledge, so that when the opportunity comes, I will be able to add value wherever it is I find myself.
At some point I was one of those servers at events, putting on white on black and bowtie, serving foods and drinks. I had to do that job just to cater for myself. So, I have had my bad days but most importantly, I have made sure I surround myself with people who could inspire me, the likes of Seyi Law and a number of other comedians, we all started together even though I was still dancing at that time while they continued with comedy.
Later on I realised that dancing was not paying, I had danced for four to five years and it was not paying and I said okay fine, let me just join my friends and a few months into comedy, it just worked like magic for me. What I could not achieve as a dancer in five years, I saw myself achieving it in few months as a comedian so that gave me the encouragement. So, then I was really getting invitations to a lot of shows and I was making it and AY saw me and he was like, I like the way you talk aside from cracking jokes, I like how you present yourself. I got that from reading, all of those years when I wasn't doing anything. So he said, I think you would do well in media and just by that encouragement I felt like let me go try.
As at this time, I was like a hot cake in the industry, if it was the social media age, I would have been all over social media, because then I was invited to 'Night of a Thousand laff', travelling here and there for comedy. This time, I never needed to go somewhere else where I have to become an intern, then I got to WaZoBia and I was told what they needed was an intern.
A number of people came in thinking it was presenters they were looking for but interns and you know interns are not really going to be OAPs; they are just going to be announcers. But I took it upon myself to learn, so that was why I interned at WaZoBia for like two years. I later found out that this guy has more to offer than just being announcer, so I was given several slots to be an OAP and that is how I became a TV presenter and since then, more than five years now,  I have been balancing acting with comedy and presenting.
Are you married or in a relationship?
No, I am not married and I am single.
If you had the chance, would you go to the Big Brother House?
Yes, because I think it is entertaining and I think it is one of the best platforms to take your craft or whatever you do to the next level. Am I hustling for it? No, but if I had the opportunity, I would.
Can you tell me your most embarrassing moment?
In 2016, I was to get married to my then girlfriend, I proposed and it was really loud everywhere but a few months down the line, we had to call off the whole thing. So, the embarrassing thing was now explaining to all of our friends and family why. That was for me my most embarrassing moment (laughs).
Can you share with us why you had to put the engagement off?
Well, I cannot because it is quite private and out of respect for her and her husband, because she just got married. We are still friends. We just got to a point that, what we both wanted as at that time was kind of different and we had some differences that were becoming very obvious. It was not like one person cheated on the other or anything but it was just some value that did not click as at then. So, like I said, for her sake, for her husband's sake, for my sake and maturity sake, let's just leave it that way.
Moving forward, what should your fans expect from you this year?
This year I will be hosting my concert again just like I did in 2018 and of course 'No Limits with Ogbolor and Friends'. Towards the end of the year, I should be able to publish a book and also shoot a movie. I will also be doing a giveback around February, which will be in another dimension of giving foodstuffs and all, of course I am still on Jenifa's Diary and I will be focusing on my Youtube channel this year by dishing out more contents. So, it is going to be a great year and they should keep their ears open so that things don't just pass them by.