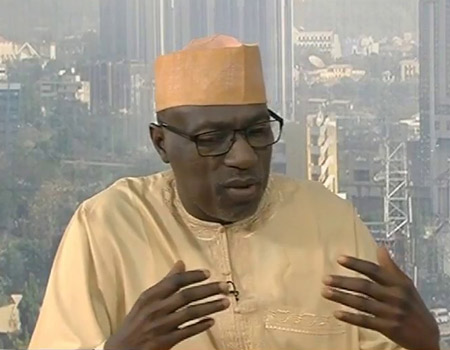 FORMER Chairman of the defunct National Caretaker Committee of the Peoples Democratic Party (PDP), Senator Ahmed Makarfi, has alleged that the killings in the country attributed to herdsmen had festered because of collision by some individuals.
He said he would bring the menace to an end if he gets the presidential ticket of the PDP and elected president.
The former Kaduna state governor, who was at the national secretariat of the party Abuja on Friday to submit his completed expression of interest and nomination forms, said he would replicate, in the country, what he did as Kaduna governor to restore peace after a series of deadly communal clashes in the state.
He said: "Nigeria needs to be secure, there is too much bloodletting in this country today. We must restore sanity, and stop this killing.
"It is not possible for this killings to be going on without one collision or the other. The collision can be from anybody, but there is no way that with the way things are going that there is not one collusion or the other.
"If I happen to be nominated and elected, I have history to have restored peace in Kaduna, that will also be replicated in the length and breadth of Nigeria. This is not theory, but practical because have done it before."
Makarfi condemned the attempt by suspected All Progressive Congress (APC) thugs to disrupt proceedings at the national secretariat of the PDP on Thursday, saying that it was the handiwork of a drowning party.
He said the APC was left with no choice but to intimidate but he advised the former ruling party not to lose focus.
The former party boss stated: "I will begin by sympathising with you, both PDP women and women on the attack on democracy on what happened yesterday, when we were assaulted by the APC thugs.
This has never happened before, for a party to leave it's domain go to another party's headquarters and do what they did. But no matter how they try, they will not succeed.
Intimidation will not work.
"We know the APC are left with no option other than intimidation.
ALSO READ: We're not aware of earth tremor, massive explosion in Abuja ― FCTA
"When you are losing whatever you see you grab. A drowning man, if you give him a sword he will hold it. So, we are dealing with drowning men, we should understand and see them as such.
"We must never lose focus to wrestle power from the APC. They may use whatever they want to use, but let use our brains."
Makarfi promised that if given the opportunity, he would also introduce soft loans for students, improve power infrastructure and create jobs for the youths among other initiatives.
Meanwhile, former National Organising Secretary of the PDP, Senator Abdul Ningi, yesterday submitted his nomination forms to contest the governorship election in Bauchi State, vowing to rescue the state.
Ningi, who is a four-term member of the National Assembly, said he would turn around the appalling conditions in the state which he blamed on the current APC government.
He said: "The state (Bauchi) has derailed especially in the last three and half years. Bauchi has become like a cursed state and if things continue to be the way they are, in the next couple of years, I don't know how we are going to describe Bauchi," he said.
Ningi said he had the "obligation and resolve to ensure that Bauchi story changes. I want to add value to the state and make sure it becomes one of the frontline states in terms of development."
Also submitting her forms on Friday to contest the Nasarawa state gubernatorial post, former acting Minister of Information, Prof. Patricia Akwashiki, expressed confidence that she would emerge the first elected female governor in the country, saying that she would utilise the state's proximity to Abuja to improve its Internally Generated Revenue (IGR).
Also speaking after the submission of his forms, Kwamkur Vondip, who is bidding to replace Senator Jerry Useni as the senator representing
Plateau South Senatorial District, said there was no way APC could win Middle belts states because of the killings that have taken place in the region.
"Nobody will accept APC in north central. Too many killings have taken place there. Anybody that supports APC there is a betrayer," he declared.