The year 2020 has been challenging for businesses. The COVID-19 pandemic caused a global shock that businesses world were not expecting.
In a matter of a few days, organizations that were thought to be stable and forward moving were shocked to their core. Businesses around the globe were frantically looking for ways to maintain productivity, satisfy customers, and deliver their products in a timely way. It took a few months, but little by little businesses adapted and regained their equilibrium. Ten months into the pandemic, it feels like things are returning to a semblance of normality.
Many have referred to this time as the new unstable normal for business. There are still a lot of questions about how long the pandemic's effects will be felt. Some changes to the way business is done will be permanent. Others, such as changes to how the public sees air travel, shopping online, and working from home, may only be temporary.
In order to survive, businesses need to be responsive, adaptive, and agile. Cloud computing aims to help companies recover from the pandemic in 2021 by providing them with the best cloud-based tools and services like cloud storage solutions available today, in order to respond to the current situation and to prepare for what the future may bring.
How Cloud Technology Became the Savior of the Business World
Even before the pandemic, businesses were migrating their data storage and other aspects of their business to the cloud. This is a process that has been going on for the better part of 15 years. When the pandemic struck, it seemed like cloud technology was exactly what the business world needed to survive.
In a matter of days, millions of office workers found themselves working from home. Development shops and IT departments had to instantly change the way they functioned. One could only imagine the nightmare scenario that would have existed if public cloud apps, infrastructure, tools, and development services that are currently available did not exist. The response to the pandemic would have completely hobbled the world. However, cloud technology became the savior that allowed businesses to operate, employees to go to work, and students to go to school.
How Cloud Technology Will Help Businesses Going Forward
In 2019, there was some shrinkage in public cloud revenue growth rates. Businesses were not adapting to cloud technology as quickly as the analysts had expected.
By the middle of 2020, the cloud computing market received an unforeseen boost. Now, it is expected that the public cloud infrastructure market will reach $120 billion by 2021. AWS, Microsoft Azure, and Alibaba will lead the way. We expect it to be an exciting ride.
Many businesses are still relying on on-premise disaster recovery strategies. However, it is expected that throughout 2021 these on-premise options are going to fade away and recovery storage will be primarily cloud-based. Businesses that did not already have a cloud-based recovery option faced the nightmare scenario where they could not access their offices and access their physical recovery service. Having a cloud-based solution helps businesses improve resiliency.
Before the pandemic, one in five developers frequently used containers and server-less functions when they built apps or modernized old ones. It is expected that these numbers will increase between five and 10 percent throughout 2021. There will be a growth in demand around the globe for multi-cloud container development platforms and public cloud server-less/container services.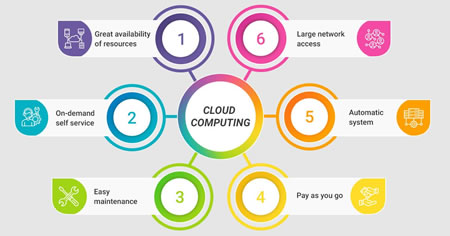 Why Cloud Computing Will Continue to Play a Role Long after the Pandemic Has Disappeared
The argument could be made that once the pandemic is in the rear-view mirror and work and life return to normal, the global interest in cloud technology will cool. Workers will no longer work remotely, and people will visit brick-and-mortar stores without fear again.
What this thinking does not take into consideration is how the pandemic has structurally changed the way people view life, business, and security. There are several studies showing that even after the pandemic, many businesses are going to allow their employees to continue to work from home. Now that the adjustment phase is done, many employees enjoy the freedom, flexibility, and comfort that come from working from home. This will only lead to increased investments in private and public clouds.
Even before the pandemic, some companies started using tools, such as cloud-based accounting and invoicing systems, to keep their finances well organized and easier to access. When the pandemic took over the world, these tools helped many businesses operate smoothly, since the majority of their workforce started working remotely.
Cloud-based videoconferencing technologies have changed how businesses communicate with each other. Since face-to-face travel was not possible, conference tools like Zoom stepped in to fill the void. Now, it's clear that most communication can be done virtually. There is not always the need to spend money on travel. Advances in cloud technology will help to improve the speed, quality, and reliability of video conferencing.
Some enterprises may have been reluctant to use cloud-based productivity tools prior to the pandemic. They may have seen them as gimmicky or offering no intrinsic value. Now that they have been forced to use these tools over the past few months, their ease-of-use and flexibility have become apparent.
Cloud-based productivity tools are cost-saving tools. As the effect of these tools is seen on the company's bottom lines, they are altering their strategies to embrace cloud technology. Saving money will always be fashionable for businesses regardless of if there is a pandemic or not.
Cloud Services Will Be Less Optional and More Essential in 2021
The COVID-19 pandemic has transformed cloud tools, storage, and infrastructure into essential services for many organizations. What is interesting to see is how more small to medium-sized businesses are adopting cloud services.
Around the world, CIOs are being forced to trim costs. They have been encouraged to invest in cloud technology as it improves the stability of business and is a contributor to long-term growth.
When you look at businesses that have survived 2020, you see that most had previously integrated cloud solutions into their business model. If these businesses are going to survive through 2021, they will need to adopt a comprehensive approach to managing cloud services. They will need to identify ways that cloud technologies can help them streamline costs. They will need to find creative ways to use cloud services to create the infrastructure their organization needs to power their workforce and drive innovation.