Clampdown on frozen chicken, fish smugglers —Agric Minister tells Customs
THE Minister of Agriculture and Rural Development, Chief Audu Ogbeh has called on the Comptroller-General of Customs, Rtd. Col. Hameed Ali, to clamp-down on smugglers of frozen fish and chicken into the country.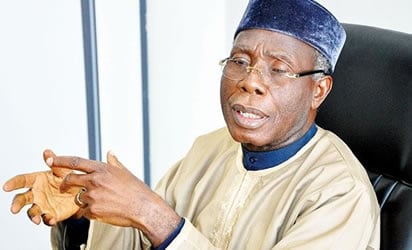 He made this call during a courtesy call on him by the Comptroller-General of Customs, Rtd. Col. Hameed Ali.
While appreciating the efforts of the Nigerian Customs Service (NCS) in curtailing the importation of banned items into the country, he revealed that the importation of rice had dropped from 644,000 to 20,000 tons according to reports from Thai Rice Exporters Association.
He informed the Comptroller-General that 12.2m people are now growing rice in the country, according to reports from Rice Farmers Association.
The Minister also promised to go round the Customs formations to sensitize staff to embrace agriculture.  In addition, he promised the Ministry's support in the provision of agricultural implements to assist them in their agricultural endeavours.
Earlier, the Comptroller-General, Rtd. Col. Hameed Ali, appreciated the various steps taken by the Federal Ministry of Agriculture and Rural Development (FMARD) in its sensitisation drive to enable Nigerians embrace agriculture.
He observed that agriculture is taking its rightful place in the economy of the nation. Rtd. Col Ali informed all present that the main mandate of his organization was to reduce to the barest minimum the importation of rice, poultry, etc. in order to encourage growth of the Nigerian economy.