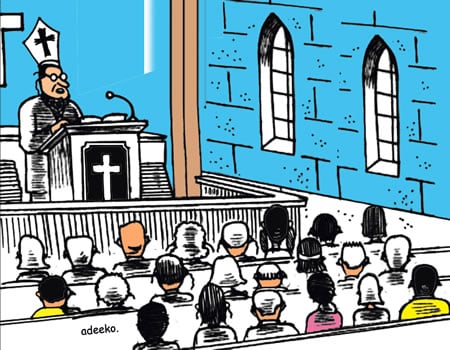 Parish Priest, St. Michael's Catholic Church, Opopogbooro, Ado Ekiti, and Vicar-General of Ekiti Diocese, Reverend Father Felix Temitope Odesanmi, has attributed church growth to the collective efforts of the laity and clergy.
He stated this at the 20th anniversary celebration of his parish, St. Michael's Catholic Church.
At the anniversary, Catholic Bishop of Ekiti, Most Reverend Felix Femi Ajakaye; the pioneer Parish Priest, Monsignor Pius Olawale Adesina; a former Dean, Faculty of Administration, OAU, Ile Ife, Professor Gabriel Afolabi Ojo; the first chairman of the parish laity, Sir Matthew Alao, and a consultant gynaecologist, Dr. Pius Ade Ojo were among those honoured.
Bishop Ajakaye, who celebrated a special thanksgiving Mass, in his homily, charged the congregation and the awardees, including himself that the recognition was a call to work harder in their various deeds that earned them the recognition.
Ajakaye, who was assisted at the Mass by Monsignor Adesina and the Parish Priest, Reverend Father Felix Temitope Odesanmi, also charged the congregation to "see God in your neighbour, brothers and sisters and when you do an act of generosity, do it and move on without sticking around to monitor your generosity."
In his address, Father Odesanmi, who is the Vicar-General of Ekiti Diocese, thanked God that the parish had grown.
"Without any form of contradiction, St. Michael's parish has grown both spiritually and physically to an enviable status, a feat made possible by the grace of God, and the commitment, dedication and sacrifices of the priests and lay faithful," he stated.