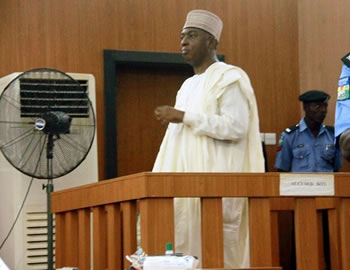 the reactions of some Nigerians to the retrial order made against the Senate President, Dr. Bukola Saraki, by the Court of Appeal seems to have been equated with his conviction.
It must be emphasised that the trial panel has only, in its wisdom, opined that the Senate President should simply defend himself in three out of the 18 charges preferred against him.
The Court of Appeal Panel has only recommended the retrial of the case against Dr Saraki at the Code of Conduct Tribunal and this should never be misconstrued as the conviction of the Number Three citizen of the nation.
It must be noted that the three-man Court of Appeal panel led by Justice Tinuade Akomolafe-Wilson only upheld  charges 4, 5 and 6 for retrial at the Code of Conduct Tribunal out the 18 counts initially brought against the Senate President.
This is just another opportunity for Dr Saraki to prove his innocence and to clear himself of any wrongdoing in the remaining three charges; just the same way he had done in the already dismissed 15 charges.
I think that the retrial order cannot unsettle the Senate President in anyway because a clear conscience fears no accusation.
Meanwhile, those that derive joy in the spreading of negative news about Dr Saraki should appreciate the fact that the Number Three citizen has so far allowed the free flow of the nation's judicial process and has totally restrained himself from using his exalted office to obstruct the system.
Since the retrial order is already subjudice in Hindi, Nigerians would be well advised to patiently wait and allow Dr Saraki to prove his innocence and put all doubting Thomases wrong.
 Salami Musa,
Abuja