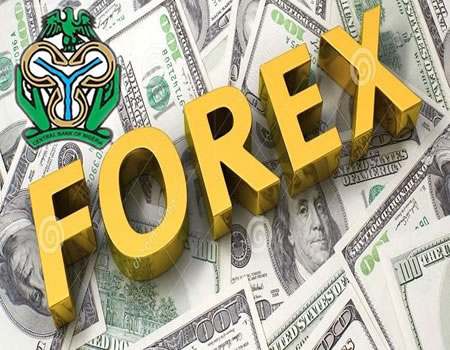 CENTRAL Bank of Nigeria (CBN) on Wednesday continued its intervention in the inter-bank sector of the Foreign Exchange market by injecting another $210million to meet the requests of customers.
A breakdown of the figures obtained from the Bank in Abuja on Tuesday, April 18, 2018, indicates that the CBN offered the sum of $100million to authorized dealers in the wholesale segment of the market, just as it allocated the sum of $55 million each to the Small and Medium Enterprises (SMEs) segment and the Invisibles segment to meet needs tuition fees, medical payments and Basic Travel Allowance (BTA), among others.
Confirming the releases, the CBN Acting Director in charge of the Corporate Communications Department (CCD), Isaac Okorafor, said the continued intervention by the Bank was in line with the Governor's commitment to ensure liquidity in the market as well as reduce pressure on the naira.
Mr Okorafor said that the CBN was pleased with the current market situation brought about by policies it had put in place to check forex speculation, round trippers and rent-seekers.
According to him, these policies had helped to stabilize the exchange rate in addition to the establishment of the Investors-Exporters window, which had increased fx supply with over $20 billion inflow since its inception.
According to him, the Bank will not relent in its effort to manage the country's forex with a view to reducing its import bills and checking any haemorrhage of its foreign reserves.
ALSO READ: CBN boosts Retail SMIS with $321.4m
The CBN, in its last intervention on Tuesday, April 10, 2018, intervened to the tune of $210 million to cater for requests in the various segments of the forex market.
Meanwhile, the naira continued its stability in the forex market, exchanging at an average of N360/$1 in the BDC segment of the market on Wednesday.