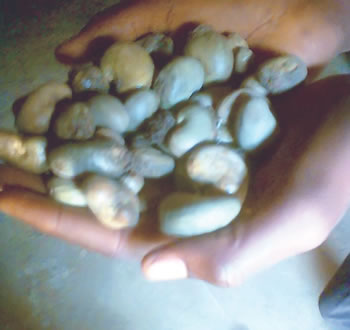 THE National Cashew Association of Nigeria (NCAN) has appealed to the Federal Government to take measures to instil efficiency in the country's ports to facilitate export with emphasis to agricultural perishable produce.
The President of the association, Mr Tola Faseru, made the appeal in an interview with the News Agency of Nigeria (NAN) in Abuja on Monday.
Faseru said that present chaos and duplication of efforts at the ports were slowing down export, noting that the country was losing huge foreign exchange as a result of the delay.
He also appealed to the government to give all necessary support to companies constructing roads at the ports to engender speed.
The president said that more equipment should also be deployed at the ports for loading and off-loading of goods to hasten operations.
"There should be better efficiency at the ports, so the process at the ports should be re-evaluated.
"The key actors like terminal operators at the ports are the major service providers, they need to be more efficient to be able to handle the chaos there at the moment.
"Our ports should be smarter to help agencies do their work.''
Faseru said that slow operations at the ports had resulted to increase in transaction costs for exporters, adding that this had implications on the cost of agricultural produce at the international market.
He explained that cargo forwarding which previously cost N5, 000 per tonne was presently being sold for about N15, 000 per tonne.
"Transaction cost has increased tremendously, a transaction that should take 45 days now takes between 90 and 120 days.
"Goods are getting spoilt in warehouses, goods that are meant to be in the warehouse for one week, you discover that it will take longer time and most of them are perishable agricultural goods.
"When a company gives you an order and they are expecting you to deliver in February and you are bringing it in June, they will have a rethink.
"There are huge losses for exporters and the economy, I am sure that within the last eight months, there is no way we would not have lost nothing less than two billion dollars,'' he said.
The president also solicited the support of the Federal Government to procure no fewer than 2.5 million jute bags needed for the packaging of cashew.