#CashAndcarryPrison: Aregbesola lauds Fisayo Soyombo, commends undercover investigation on police, prisons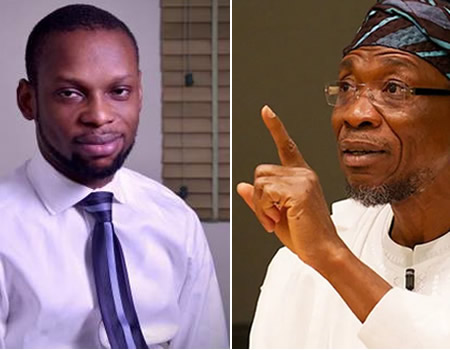 Minister of Interior, Rauf Aregbesola, has lauded Fisayo Soyombo for his recent undercover investigation which exposed various corruption in the country's criminal justice system.
Aregbesola who gave the commendation at an event in Abuja, on Thursday, also condemned the dehumanisation of inmates in the prisons.
Soyombo, a former editor with The Cable and Sahara Reporters, had spent five days in a police cell and eight days as an inmate in Ikoyi Prison, Lagos State, where he uncovered what has been labelled as the systematic rot of the criminal justice system in Nigeria.
Tribune Online recalls that Soyombo went into hiding after he learnt he was to be arrested for espionage at a Lagos event he was scheduled to speak.
This development prompted Nigerians and other well-wishers to demand the Federal Government to #KeepFisayoSafe.
ALSO READ: Appeal Court verdict: Remain calm, peaceful, Wamakko tells APC members
Aregbesola and the ministry subsequently denied intention to arrest Soyombo.
However, the minister applauded Soyombo, TheCable and the International Centre for Investigative Reporting (ICIR) for a "fantastic job".
"If you are thanking the EU and all those world bodies; it will be an exercise in grand deceit if we don't recognise a fantastic job undertaken by Soyombo.
"We must recognise the fact that it is in line with the education programme that we are here celebrating. That undercover journalist which TheCable online newspaper brought out. And I must equally commend that organisation and whoever it was that did undercover because I see it as part of the entire circle."
"You cannot permit dehumanisation of confined people and expect them to be anything less than an animal when they come out. The only way you can get a sane human being out of confinement is to… (educate), and that is what we use," Aregbesola said.