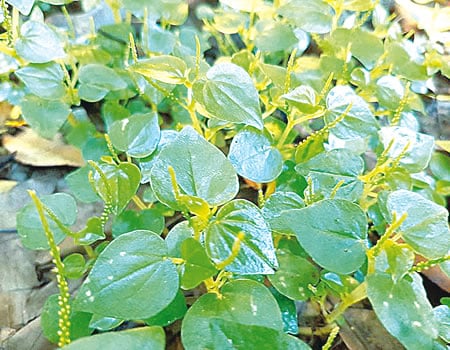 BROKEN bones are painful and frustrating because they take a long time to heal. Not to worry, experts have confirmed Peperomia pellucida, a common vegetable, in Cameroon as effective in quickening bone fracture healing.
In a new study, Cameroonian experts found its water extract stimulates bone healing in female rats. It accelerating production of cells that develops into bones, so confirm its traditional use in the treatment of bone fractures.
The study's evaluation indicated that its water extract made from the whole Peperomia pellucida plant contains varied nutrient minerals (calcium, phosphorus) which are important for bone health and formation. The 2017 study was in the journal, BMC Complement Alternative Medicine.
Peperomia pellucida commonly known as shiny bush, cow-foot or silver bush is consumed as a vegetable. In Cameroonian traditional medicine, it is used for the management of diseases and for fracture healing.
In the Yoruba speaking part of Nigeria, it is identified as "rinrin or renren". Its infusion added with milk is used to boost the immune system of sick people.
Pounded whole plant is applied to the skin as warm poultice for skin disorders such as boils, pustules and pimples. Its traditional uses include treatment of abdominal pain, abscesses, fatigue, gout and rheumatic joint pain.
According to The Useful Plants of West Tropical Africa by H. M. Burkill, Peperomia pellucida (cow-foot) is also used as medicine in diarrhoea, dysentery; paralysis, epilepsy, convulsions, spasm; pulmonary troubles; tumours, cancers.
Till date, there is no drug that is available to treat fractures. Although the body naturally heals a broken bone on its own, wearing a cast to keep the bone in place while it heals and certain foods can help speed the healing process. This invariably reduces the cost of treatment and helping patients to quickly regain their good health.
In evaluating its effectiveness on fracture healing, the researchers gave different doses of the extract to female Wistar rats. The fractures were created by drilling holes in the thigh of the animals.
The extract was produced by boiling its dried whole plant in water for 10 minutes. The distilled water was given to the control.
After 14 days of treatment, the rats were sacrificed under anaesthesia and the effects of the extract were evaluated on their body weight, weights of their body organs, blood and bone. The mineral content of the plant extract was also investigated.
The study found that Peperomia pellucida increased bone calcium at lowest dose but maintained this parameter at normal range at high dose in fractured rat.
The mineral content of the plant extract revealed the presence of calcium, phosphorus, magnesium, sodium and potassium. Potassium was found to be the most abundant mineral element in this plant while sodium was the least.
Administration of the plant extract to the fractured and unfractured rats also induced a significant increase in body weight as compared to their respective controls.
Also, the plant extract induced a significant increase in bone calcium concentrations as compared to the normal control.
The results of bone X-rays revealed that the treatment of fractured rats with the plant extract at the doses of 100, 200 and 400 mg/kg induced a dose dependent decrease in the drill hole diameter to 0.5, 0.2 and 0 mm respectively, an indication that the natural process of bone healing has occurred.
This corresponds to 28.75, 71.43 and 100 per cent decrease respectively in comparison to the fractured control. There was complete closure of the hole in the rats receiving the plant extract at 400 mg/kg.
Previous in 2013, studies also by these researchers in the Journal of Ethnopharmacology had suggested that the ethanol extract of P. pellucida also significantly increases bone regeneration following bone and marrow injury.
Also, experts suggests that Peperomia pellucida leaves extracts are a natural alternative for commonly used broad spectrum antibiotics like Ciprofloxacin and Penicillin derivatives. For instance, its leaves extracts are successfully used to treat measles.
Also, researchers at the Afe Babalola University, Ado-Ekiti, declared in the 2016 British Microbiology Research Journal, its usefulness in treating infections that affect the intestinal tract such as diarrhoea. These were O. O. Idris; B. P. Olatunji and P. Madufor.
Meanwhile, according to the 2012 edition of Journal of Ethnopharmacology, Cameroonian researchers also indicated Elephantopus mollis (arójòkú  in Yoruba) and Spilanthes Africana (awere pepe in Yoruba; ilulonoica in Igbo) very useful in speeding bone fracture healing. They had tested six medicinal plants used in Cameroonian traditional medicine for the treatment of bone diseases and fracture repair.