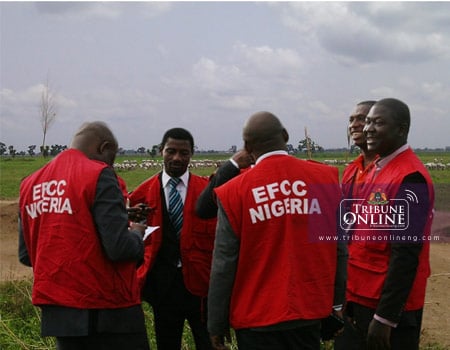 A businessman, Alhaji Abdulhamid Mahmud Zari has written a petition against an operative of Economic and Financial Crimes Commission (EFCC), Mr Abubakar Aliyu Madaki of using his position to harass, oppress, intimidate and extort money from him.
However, the issue appears to have become messy with EFCC counter-accusing Zari of plotting to frame up Madaki who is described as above board.
The petition, titled "Compliant Against Abubakar Madaki for Illegal Extortion of Money, Use of Office as Personal Assistant to Acting Chairman of EFCC and Head of Economic Governance Section of EFCC to Perverse and Truncate the Course of Justice: Need for Urgent Intervention" was addressed to President Muhammadu Buhari, Vice President Yemi Osinbajo, Attorney general and Minister of Justice, Abubakar Malami and Chairman, EFCC, Ibrahim Magu.
Zari said Madaki, a retired superintendent of police was his business partner who became angry when their personal relationship went sour and was now using his position as an EFCC operative to intimidate, oppress and ruin his businesses.
Zari, who is Managing Director of G – Complex Nig. Ltd, a company that he has been using to develop Gunduma village, Karu Local Government Area of Nasarawa State, incidentally is also the hometown of Abubakar Aliyu Madaki.
The petition averred that Zari had legitimately acquired some parcels of land to build a multi-purpose complex that encompasses bakery, hospital, pharmacy, filling station, restaurants, supermarkets and a truck Assembly plant.
The complex also boasts of staff quarters and the personal residential quarters of our client, his family and relations.
Zari contended that Madaki had always solicited and sort for financial favours from him and that at a point, Madaki approached him to buy 10 hectares of land at the price of N20,000,000.00.
According to him, "The said Abubakar Aliyu Madaki instigated the EFCC against me, as operatives from the Procurement Fraud Section, under him as at then, invaded my house on the 27th day of March 2017, claiming that they were investigating me for conspiracy, fraud and money laundering.
"Upon my inquiry, I was told that it was on the basis of a whistleblower that they raised my residence and carted away all my landed property documents, company incorporation documents and my international passport and money which they are still holding on to.
"It is more pathetic that EFCC has failed to obey various court orders in respect of this matter.
"Abubakar Aliyu Madaki has practically destroyed all my businesses using the instrumentality of the EFCC. He monitors all transactions in all my companies accounts and once my business partners make any payment, the EFCC will immediately go after them", he lamented.
In a reaction, however, EFCC through its spokesperson, Wilson Uwujarien said in a statement that "Madaki was never part of its investigating team looking into allegations against the businessman.
"What is currently playing out in select media outlets is the unravelling of a vengeful script by Zari and his cohorts to impugn the integrity of Madaki and bring him to public ridicule.
"It will interest members of the public, who may have been misled by the mischievous story, to know that Zari has been crossed with Madaki over suspicion that he instigated the investigation leading to his arrest and detention by the commission."