Business opportunities for Adire in Nigeria are huge —Ewa-Aladire
Ajayi Titilola, known in the fashion industry as Ewa-Aladire, is on a quest to re-package and re-introduce the native adire fabric into the world of fashion. The graduate of Mass Communication from Ajayi Crowther University who is currently pursuing an MBA in Marketing at Ladoke Akintola University of Technology, Ogbomosho, tells ROTIMI IGE why she became an adire crusader and her plans to dominate the world. Excerpts.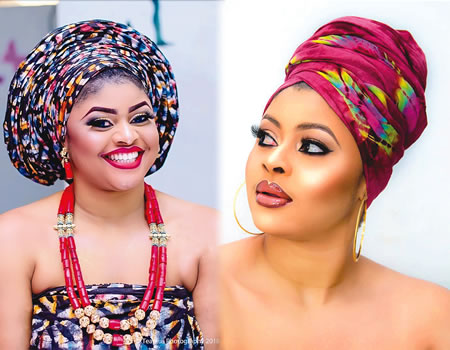 How did you get the idea of branding adire as a marketable global brand?
The idea to brand adire came from the passion I have for the African culture. Growing up as a typical Yoruba girl, I realised that I have very deep affinity for cultural arts and crafts. I grew up in a family of well grounded and ardent cultural crusaders who epitomised 'Africanism' in our daily lives. Needless to say, at an early age, I started seeing myself as an ambassador for African culture. Also, being a fashion enthusiast, I decided to delve into thorough research about African fashion, focusing more on the Yoruba race. You see, I realised that gradually, our cultural values were getting eroded by the influx of Westernisation even in the fashion industry, thus, we took up the challenge to upset the status quo, repackaged and re-introduce some of our local fabrics and accessories into mainstream fashion. Today, we have various styles in Adire for various occasions that we have been able to export even to the US, UK, Asia, and to various outlets scattered around the world. Even at various international airports, adire is sold at premium prices even to foreigners.
 With your new concept, what can adire be used for asides the traditional roles it had played in the Yoruba culture?
Traditionally, adire is used in the Yoruba culture simply as a fabric worn by the common man. Today, adire, though still worn, but by the upper echelons of the society. We see governors wear it, celebrities, professors, and so on. Adire has metamorphosed to a premium clothing brand. Celebrities even in Hollywood gracefully rock adire outfits on red carpets. Adire is also used as aso-ebi for big society events, campaign outfits for the higher political class, and so on adire has evolved also as trendy materials for shoes, bags and other fashion accessories.   Adire has now become a collector's item for tourist. Adire decorations, furniture, bed-sheets, office art and so on have dominated the interior design world now.
    You are spearheading adire for wedding series. Tell us about that.
You see, we started styling various couples for adire themed pre-wedding photo shoot and during one of our sessions, the idea came: A full 100 per cent adire wedding gown for an extremely fashionable bride! Viola! We started working on different ideas, concepts and designs.  Of course we have experimented with various adire wedding accessories before, but a full wedding gown was going to be awesome. Wait for it, we are bringing out something that will change the game for weddings. Exotic adire wedding series will blow your mind. It's only for the daring ones though.
  How do you source your materials?
As I said earlier, we started out by doing thorough research about adire. We travelled to various places to thoroughly understand the art and production of adire. We've met various individuals who happen to have been born into the production of adire. Today, we work with lots of these people to get our materials and also to produce various styles of adire that are  fit as export commodites. We buy in bulk and we produce in bulk at our factories.
  How has the reception been towards your re-packaged adire franchise?
Awesome! To be sincere, it's been like magic. Everyone just wants to associate with the brand. Daily, we receive local and international calls at 'Ewa-Aladire' requesting for various types, styles and sizes of our products. We parcel them locally and ship them internationally.
The reception has been very encouraging I must say, though we still need to create more awareness for the millennials, and we have started massive campaigns in this regards across various social media platforms, since that is the platform for the millennial generation. But in summary, I will say, 'God has been very good to us at Ewa-Aladire'
    What other projects, endeavours are you into?
Due to the increase in the demands for adire, we realised that there is the need to start empowering lots of young people by teaching them about the production of adire. Again, most of the indigenous production outlets in the country are dominated by old people in their fifties and sixties. We realised that it was necessary to start grooming the younger generation on the intricacies of adire production.
We are poised to growing the economy of this country by engaging the youths in this export-worthy venture. We have started working on a mega project in this line.
So also, as I said earlier, I am a fashion enthusiast; I'm working on creating a hairline brand that will embody everything I stand for. Something out of the ordinary though. I'll surely keep you posted on this.
 You will be opening an outlet in Ibadan on Sunday. Tell us about that.
Yes. We are opening our modern outlet on Sunday here in Ibadan. Over the years, our online store has been the major sales point for 80-90 per cent of our goods. By popular demand now we are opening the first all inclusive 'adire store' in Oyo State.
We want to make this outlet the offline store that anybody can walk in and check out our exciting pieces. We are bringing lots of people together for this mega opening. Celebrities, media moguls, government officials, entrepreneurs, politicians, fashionistas, event personnel, and so on, will be attending to witness the birth of the first of its kind all inclusive adire store in Oyo State. There will be loads of fun, food, drinks, games, and so on. It will also be a great networking time with different individuals in different sectors.
    What challenges have you faced as a fashion entrepreneur?
You see, every business usually comes with its own challenges and adire business is not an exception really. Funding is a major challenge, just like it is for every start-up in this part of the world. Accesses to funds to build SMEs are so limited. We have to keep scraping out our savings to build and expand the frontiers of our business.
Orientation is another. Most people still need re-orientation about the values embedded in our local fabrics. Some clients still find it hard to associate with the adire fabrics. They still think it is just not possible for an adire outfit to stand side by side with the likes of Gucci, Fendi, Versace and others.
   You are also into make-up and modelling?
Yes. I am a professional make-up artiste with a business that is registered with the CAC as 'AllureByEwa'. We render special make-up services for premium brand owners, and also a lot of African themed make-up art. I'm also into modelling as well. I do lots of face modelling jobs for brands. Everything is interwoven since it is all in the fashion industry.
  Rate the fashion industry in Nigeria at the moment.
The fashion industry in Nigeria today has grown to gain international attention over the years. You see, I am proud of Nigeria, as this country's fashion industry calls the shot in the whole of Africa. If Nigeria sneezes, Africa catches cold, meaning, anything introduced into the Nigeria fashion Industry is sure to be replicated across the continent of Africa.
Though the industry is yet to get there, it is improving daily. The government needs to encourage her growth and render any necessary support in terms of loans and legislations to improve the industry. Moreover, the likes of Yomi casual, Toyin Lawani, Mai Atafo, just to mention a few, are doing exceptionally well in the industry and without sentiments, I will rate the industry 80 per cent because despite the unavailability of enabling structure, Nigerians are still quite innovative and always ready to learn and improve their skills in the fashion industry.
  Who are your mentors in the industry?
Just a few. Chief Mrs Nike Davies Okundaye, first of all. I respect her courage, talent, creativity and the love she puts into arts and culture. All these make her unique in her own way. Kunle Afolayan is also someone I respect so much in the industry. He embodies Africanism and his kind of ideologies and values are rare in this generation.
 What future do you see for adire as a fashion item?
Picture this:-An adire themed wedding where the bride, groom, train all wear stylish adire and where the entire aso -ebi is also adire. A Friday at work where all workers step out in various forms of stylish adire, from the top management to subordinates. A school where all the children are all wearing very colourful adire as their school uniforms.  Association events, AGMs, meetings, launching, campaigns, etc, when all members are wearing adire gorgeously and so on. You see, the business opportunities for adire as a fashion item in Nigeria are very great and the future is promising. Very soon, adire will be in every home in Nigeria and beyond. Government parastatals will adopt adire for their weekly outfits. Private establishments will want to associate with revolution sooner than later. Let's keep our fingers crossed. Ewa-Aladire will be coming with her signature outfits in adire that will take over your homes soon.