"Build to last", Fashola tells professional builders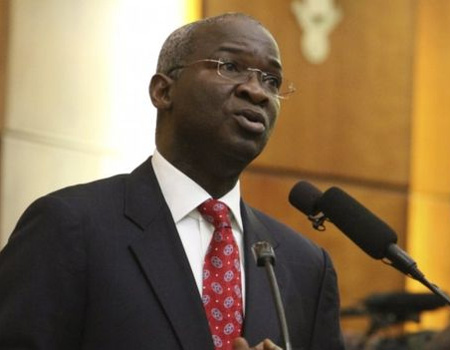 The Minister of Power Works and Housing, Babatunde Fashola has tasked professional builders under the aegis of Council of Registered Builders of Nigeria (CORBON) to ensure that every infrastructure built stands the test of time.
He gave the charge when he inaugurated the Board of the sixth Council of the Registered Builders of Nigeria (CORBON) yesterday in Abuja.
Fashola who stressed the need for the country to have qualified professionals who would build the nation's infrastructure added that infrastructure building is one of the time-tested and proven ways of driving economic and national development.
"We are inaugurating this Council at a time of some momentous responsibility that our nation has to deal with. We have an economy that we need to recover; we have an infrastructure that we need to build. We all know that infrastructure building is one of the time-tested and proven ways of driving economic development in addition to national development.
"If you certify people or if you approve or accredit people to take that responsibility and whatever they then build collapses, ask yourselves, are you builders; because, for me, builders really build to last. And, therefore, you have, perhaps, a responsibility that is higher because of the times than it ought ordinarily to be."
He disclosed that the Revised National Building Code would soon be presented to the public,stating that the document would address some of the challenges that we have to deal with" adding that government would need the Board members to enforce the Code.
"It is a document we will ask you to help us enforce; to help us ensure that the builders you certify are not only familiar with it but they imbibe it as a way of life. And if there is anything to be gained from that, it is also to focus on the quality of materials, the standard of the materials that we use as we go forward in our nation-building effort, "the Minister added.
While responding to the issue of building collapse, Chairman of the Council, Professor Kabiru Bala, said no registered CORBON member is directly involved in any building collapse issue.
He blamed the menace on inadequate monitoring by registered professionals.