Buhari's intervention critical in Jammeh's exit ―Gambian President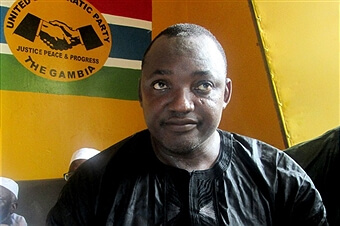 President Adama Barrow of The Gambia on Tuesday revealed that President Muhammadu Buhari's intervention was critical to get a recalcitrant former president of his country, Yahya Jammeh, out of power after losing the election last year.
Barrow, who was at the presidential villa, Abuja on a "thank you" visit to the president, told State House core that this intervention came at the meeting of West African leaders in Mali in the heat of Jammeh's rejection of the outcome of the country's last presidential election.
He said: "My visit is very important to us. We have always wanted to say thank you when Nigeria gave us all the support during and after the impasse. Nigeria has been supporting The Gambia for a long time in different areas like technical assistance in the area of education, judiciary. "We are really happy to come.
"When we met in Mali, he (Buhari) took a decision as a leader in a closed-door meeting. He made one statement that changed everything, that if The Gambian President wants to challenge the subregion, he is welcome.
"This was his words and that made a big difference as a leader. And that leadership role was very important not just for The Gambia but for Africa because the problem was an Africa problem with an Africa solution.
"So, we are very grateful and that was why we wanted to come and say thank you.
"There is a saying in my country that if you want to thank a farmer for a good job, you have to visit him at his farm and that is why we are here."
In his own remarks, President Buhari said Nigeria will soon raise a team to work with their Gambian counterparts on how to assist the country going forward.
President Buhari stated when asked what Nigeria will do for Gambian: "Well, your president has virtually answered the question. We did our best in the most critical time."
"Hopefully, now the president will raise his team and we will raise a corresponding team and we will sit together and see how we can draw a political programme that will complement each other's effort on development.
"So this is the next time we are going. What was the deal you struck with the former president that led to the smooth transition?"