Buhari pledges to intensify war on corruption, improve economy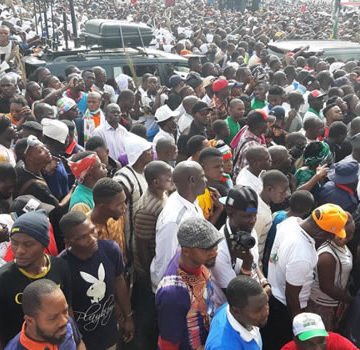 President Muhammadu Buhari on Wednesday promised to intensify the fight against corruption and work for the improvement of the nation's economy if re-elected into office during the 2019 elections.
Apart from this, the president said he would continue to make Nigeria a safe place to live and improve the fight against insurgency in the country.
Buhari said this in Lokoja, the Kogi State capital, during the presidential campaign of the All Progressives Congress (APC) held at the Lokoja Confluence Stadium.
The president lamented that the 16 years government of the opposition Peoples Democratic Party (PDP) was characterised by massive looting and abuse of office.
According to him, over $16 billion was said to have been spent on power by previous administrations, saying there was nothing to show for it by the PDP administrations as he said the nation was still groaning in darkness.
He said that all the money earned during the oil boom was stolen by previous leaders, saying this is the reason the country and its people had been subjected to abject poverty and needless agony.
Buhari challenged the PDP to explain to Nigerians what they do with the money generated from crude oil for the 16 years the party held sway as the government of the nation.
According to him: "The PDP-led government in 16 years sold 2.1 million barrels of crude oil per day at the cost of over 100 dollars per barrel but yet there was no electricity, no infrastructural development and there was no security of lives and property for Nigerians.
"If you give me another four years, I will ensure that all they have stolen will be returned back to you through my renewed effort in the fight against corruption"
The president, however, reaffirmed his commitment to the fight against corruption, saying that every kobo stolen from the treasury by past leaders would be recovered and paid back into the nation's coffer.
The president also promised to work on the resuscitation of the moribund Ajaokuta Steel Company, saying unemployment would be tackled if the company is completed and functional.
The state governor Alhaji Yahaya Bello, while addressing the party faithful, said that the next election is a choice between corruption and integrity, urging the people to vote wisely.
According to him, "I am urging you to vote for all APC candidates from the top to the bottom. Cast your vote on the day of elections, protect and defend the votes against rigging."
The national chairman of APC, Comrade Adams Oshiomole, commended members and supporters of APC for turning out in their large numbers to receive President Muhammadu Buhari, assuring that more dividend of democracy is awaiting the people if they return the president back to power next month.