Buhari meets CAN leaders, says I'll leave Nigeria better than I met it
•Keep your promise on inclusive government, CAN tells him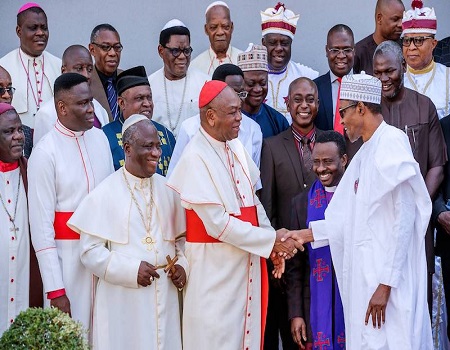 President Muhammadu Buhari Friday met with the national leadership of the Christian Association of Nigeria (CAN) at the Presidential Villa, Abuja, assuring them of his commitment to leave Nigeria better than he met it in 2015.
The meeting which held behind closed doors was also attended by Vice President Yemi Osinbajo.
The CAN delegation, which came to congratulate the president on his re-election, was led by its national president, Dr Samson Olasupo Ayokunle.
The President affirmed that his administration will continue to address important national challenges including security, economy and corruption.
President told them the outcome of the just concluded polls underscores the trust Nigerians have in the present leadership in the country, saying: ''We will continue to strive for peaceful co-existence among all Nigerians irrespective of their religious beliefs.
''In the area of allocation of political offices, our focus will be on merit and national spread such that every part of Nigeria will have a sense of belonging.
''We remain resolute in the fight against terrorism and insurgency, and efforts to bring back all those in captivity and other victims of kidnappings will be intensified,'' the President said.
Commending the important roles religious bodies have played in the last four years of the administration, President Buhari pledged to continue supporting several programmes anchored by the Nigeria Inter-Religious Council (NIREC), geared towards peace, tolerance, unity and harmony in our country.
In his congratulatory message, the CAN president prayed God to grant President Buhari ''everything it takes to perform hundred times better than'' his first term, stressing that the organisation had the success of this administration at heart.
Rev Ayokunle welcomed the President's pledge to run an inclusive government in a speech shortly after his re-election, noting that the gesture would give all in the country a sense of belonging.
The CAN president told Buhari: "Your Excellency, our advice to you is to take your leadership beyond party politics. We were so happy listening to your Speech after your re-election that you were going to run an all-inclusive government. Having been re-elected President, you have become the President of all. In view of this, we urge you to see yourself as the father to all by embracing all. We solicit for inclusiveness and fairness as you constitute your cabinet and appoint worthy Nigerians to the headship and membership of critical agencies, boards and parastatals.
"Your Excellency, there is no ethnic or religious group in Nigeria where you cannot find highly qualified men and women that you can engage to add value to your administration and help in moving the nation forward. This is the true and objective way in which you can give all in the country, a sense of belonging.
"We, from the Christian Association of Nigeria, recognize the importance of the National Assembly to the stability and growth of our polity. It is in this regard that we call for ethnic and religious balance with depth in picking the leadership of that great institution of democracy.
ALSO READ: I demand justice over my husband's death ― Wife of murdered man cries
"Sir, to ensure that this happens is to remove any apprehension and suspicion harboured towards the leadership of this country. We equally solicit that the principle of separation of power as it is enshrined in the constitution of the Federal Republic of Nigeria would be allowed to thrive as an intrinsic aspect of modern day democracy."
The leadership of the Christian body in Nigeria also called for ethnic and religious balance in the selection of leadership of the ninth National Assembly.
While appealing to the President to task security agencies to be more proactive in their duties, the CAN leader made a passionate request for deliberate and relentless efforts to free Leah Sharibu, other Chibok girls and Nigerians in captivity of insurgents.