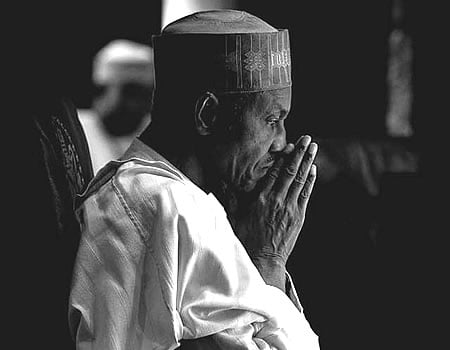 Governor Ayodele Fayose of Ekiti State, on Wednesday, claimed that President Muhammadu Buhari has been on life support for 20 days in a West End hospital in London, saying he needs our prayers.
Governor Fayose, who addressed newsmen at Government House, Ado Ekiti, said only a few Nigerians had been able to see the president since he took ill and admitted in a London hospital, saying "a cabal has taken over the presidency."
Fayose said: "Of a fact, our First Lady, Her Excellency, Mrs Aisha Buhari was not allowed to see her husband during her last visit to the United Kingdom. If only she will be courageous enough to admit.
"Only three Nigerians who are of the President's cabal are allowed access to the President. I will keep their identities for now.
"Anyone with contrary claim should produce the President to Nigerians within the next 48 hours."
In a statement entitled: "Buhari on life support for 20 days, needs prayer; Presidency must tell Nigerians the truth always", Fayose said "Today, it makes 53 days since our President, Muhammadu Buhari, left Nigeria to attend to his health challenges abroad. No official information as to his whereabouts and his state of health.
"Like every other Nigerian, I do not wish the President dead. I have therefore maintained dignified silence since we were told that the president embarked on his second medical trip abroad this year.
"However, the recorded audio message which was released by the presidency as the President's Ramadan message to Nigerians necessitated my setting the records straight today.
"No doubt, the audio message was only a damage-control strategy aimed at further deceiving Nigerians."
The governor said he "elected in good conscience" to make the statements, saying "it is obvious that Nigeria is drifting like the last days of Yar'Adua's government."
Speaking further, Fayose, who is the chairman of Peoples Democratic Party (PDP) Governors Forum, said "Nigerians will recall that I warned against electing President Buhari on the account of his age, health and mental capacity.
"Nigerians will also recall that when they released pictures to the press claiming that President Buhari had an interview with Kemi Fadojutimi of "All Eyes on Africa" TV Show in London, on Monday, February 23, 2015, I proved to the whole world that the interview was conducted in Suite 881 at Transcorp Hilton Hotel, Abuja.
"Hate me or like me, again I am putting Nigerians on notice on the present state of health of our President.
"I am not unaware of the various attempts on my life; I am undaunted as I remain committed to truth and fearlessness because a man's life does not consist in the abundance of his possessions.
"Dear Nigerians, even though President Buhari needs our prayers and we should keep praying that God takes total control of his situation. It is equally imperative that our leaders must tell us the truth at all times.
"It is time that the President takes the interests of Nigerians above his own and resign from office so that our country can move forward. The fate of Nigeria and its people must not remain in the hands of the Presidency cabal, our country must be set free."
He said, "It is time the President throws in the towel and resigns and allow this country to move forward," saying "if truly we love this country, the President loves this country and his handlers, they should release Nigeria to move forward and allow whosoever that has the capacity to move this country forward because as we are, Nigeria is in limbo."
On how he wants Nigerians to believe him, he said he had tentacles as a governor and that "some of the information are coming from within the President's party but they have no corkage to say it."
He said: "Some of the information are coming from the leadership of APC, either in government or in the party. They don't have courage to say it. When they give us the information, we verify it. Part of this information is from the APC in government and in their party. That is the truth. But we have gone further to verify and establish these facts. But largely, most of them know that these information are true and they are from their members."
---
---