Buhari lauds US over role played during 2015 election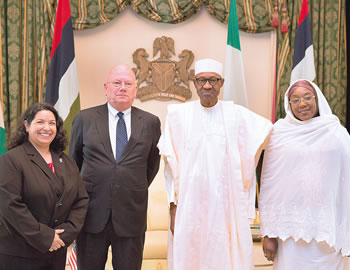 PRESIDENT Muhammadu Buhari, on Tuesday, praised United States' role in the 2015 general election which brought him to power.
Receiving the outgoing Ambassador of the US, Mr James Entwistle, at the State House,  Abuja, the president expressed appreciation for the important role the US government played in the success of the 2015 general election in Nigeria.
Buhari said the US insistence on free, fair and violent-free elections largely contributed to the deepening of democracy in the country.
President Buhari also thanked the Americans for their military, intelligence and humanitarian support to Nigeria on the ongoing Boko Haram insurgency.
He said, Nigeria also valued US contributions to promoting regional peace and stability through the instrumentality of the G7.
The president also received in audience the outgoing High Commissioner of Canada to Nigeria, Ambassador Perry Calderwood.
He commended the government of Canada's humanitarian assistance to Nigerians displaced by the insurgency in the North-East and their commitment to polio eradication in the country.
In their separate remarks, Ambassadors Entwistle and Calderwood had expressed concern on the deteriorating humanitarian situation in the North-East with looming reports of food crisis and malnutrition.
Entwistle said the bilateral relationship between both countries had remained very vibrant and cordial.
On his part, Calderwood conveyed Prime Minister Justin Trudeau's desire to strengthen ties with Nigeria in Canada's quest for partnership on international engagements, including its bid for a non-permanent seat in the UN Security Council, 2021-2022.