Buhari congratulates re-appointed UN Secretary-General, deputy
•India Prime Minister writes him on Yoga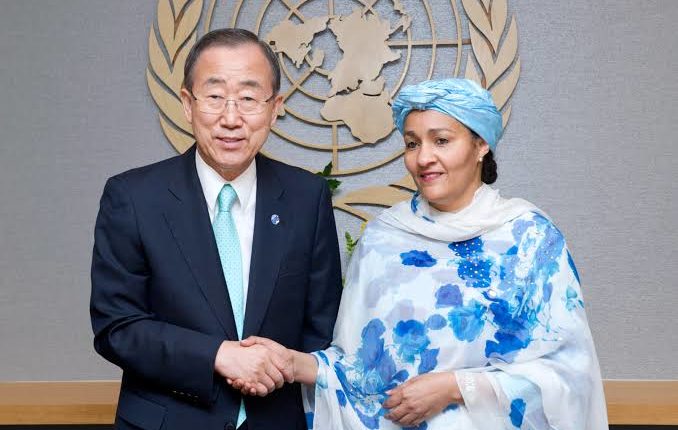 President Muhammadu Buhari has felicitated with Secretary-General of the United Nations, António Guterres on his re-appointment for a second term in office, and extension of Deputy Secretary-General, Amina Mohammed's tenure for another five years.
A statement issued by Garba Shehu, Senior Special Assistant to the President (Media & Publicity) Saturday said the President  congratulated the Secretary-General and Deputy Secretary-General, who was a former Minister of Environment in Nigeria, for the global recognition and opportunity to serve humanity with their experience, trusting that their passion to promote peace, alleviate poverty, improve health and empower more people will gain more speed and results.
It said Buhari believes that Mohammed's extension in office will further encourage more women and the girl-child, particularly in Africa and Nigeria, to aspire to new heights of leadership, dream beyond the borders of their country and learn from her dedication to seeing lives transformed for the better.
He extolled the former minister for her contributions to development, at home and abroad, praying that the Almighty God will grant her good health, strength and more wisdom for the journey ahead.
ALSO READ: External forces behind secessionist agitators in Nigeria — Fayemi
Meanwhile, as the world celebrates UN International Day of Yoga, Prime Minister of India, Narendra Modi, has written to President Buhari, on the health benefits of Yoga, particularly in boosting immunity and helping recovery from COVID-19.
In a letter dated May 14, 2021, the Prime Minister said: "In 2014, the overwhelming response of the United Nations General Assembly to recognize June 21 as International Day of Yoga underlined the universal appeal of Yoga that transcends all barriers.
"Since then, the International Day of Yoga has been marked globally with great fervour.
"In a few weeks, the world will mark the seventh International Day of Yoga. Like the year gone by, this year's International Day of Yoga will also be marked under the shadow of the COVID-19 global pandemic.
"During this monumental challenge, our COVID-19 warriors have waged a remarkable fight against the pandemic. 
"While the threat of the pandemic remains, there have been positive developments since the last International Day of Yoga. In addition to various treatment protocols, scientific understanding about the virus, we now also have several vaccines to protect our people from the pandemic. 
"Vaccination drives are underway in several nations, including India. I remain optimistic that humanity shall overcome the pandemic very soon.
"The theme for this year's International Day of Yoga is "Yoga for Wellness which is particularly relevant in the current context."
"Yoga has many benefits for the body as well as for the mind. Despite all the efforts and precautions, COVID-19 may infect any person.
However, a strong immune system can aid in the fight against it. Yoga can help build that immunity, for instance, through breathing exercises that strengthen the lungs. At the same time, across the world, millions of people have been forced to stay indoors for months. This has taken a toll on their mental health as well. Regular practice of Yoga can also help them recover.
"Yoga has an inherent power to connect.  Yoga is good for community, immunity and unity. The theme of the International Day of Yoga celebrations this year reflects the concern for the good health and wellbeing of people across the globe. It is an endeavour to ensure that we focus on fitness as well as wellness.
"I wish to extend through your good offices, my deepest gratitude for the cooperation and efforts extended by one and all in making the International Day of Yoga celebrations a resounding success in your nation every year. I am sure that this year will be no different.
"Please accept my best wishes to you, your family and your citizens, for good health and well-being."